As I said in the article Cucumber in a cosmetic bag, the cucumber season began and you need not to waste time, but to get slimmed out to look, if not 100%, then much more beautiful than 50%. I know the cucumber diet from my student days, when after the winter I wanted to become slim. Cucumber is the first available living diet that makes skin wonderful, and all because cucumber is 95% water.
Cucumber can stimulate digestion, after a long winter, it will clean the intestines of toxins, and your skin from their manifestations. Due to the large amount of water in cucumbers, this diet helps to normalize the water-salt balance of the body and has a diuretic. Cucumber will start the activation of metabolism, which means your body will be able to function as a watch.
Cucumber diet need to endure a week. For one day you need to take 1kg. cucumbers, cut into large pieces to fill 30gr. low-fat sour cream (or light mayonnaise), a little salt and pepper, season with your favorite herbs (dill, parsley, cilantro, celery) and eat in three doses.
The first reception of this salad should be your lunch (12-14 hours), the second reception – about 16 hours, the third – about 20 hours. You can have breakfast with the usual dishes, drinking coffee or tea. Dishes try to choose low-fat, but nutritious. After 21 hours you can eat a big apple, pear, banana or 2 oranges. You can make a salad from this fruit, but try to eat 1 serving of fruit salad (the amount is the same as 1 apple).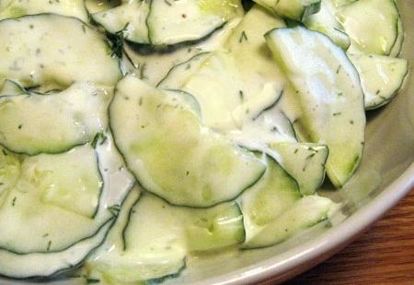 During the diet, you need to take vitamin preparations, because vitamins in cucumbers and sour cream are not enough for the body to work.
To withstand the first days of the diet is a bit complicated, but then it becomes easier. And I will tell you that it is worth it! 2 kg per week, in my opinion a good result!
If the feeling of hunger does not allow you to think about anything other than food, then before eating (for 20-30 minutes) you can eat a microcrystalline cellulose tablet and drink 2 cups of water. On the day you can drink 5 such pills. I tell you honestly, I did not drink pulp in the hope that my efforts would have a good result. And so it happened – the skin is silky and smooth (and not only on the face), cellulite can be seen a little less than usual, and I lost weight, which is very pleasing.
Whatever ideal diet you would not have armed yourself, first consult with your doctor about the possibility of its use, because the diet can both help you and harm (in the presence of chronic and acute diseases).