From this summer I started to run. Everything began perfectly, I ran easily, there were no difficulties. The problems started later, the knee joints began to hurt terribly. I read a mountain of literature, talked with many professionals in this field, learned a lot of useful things. But first things first.
How to run and not harm the body
My problem was that I started to run fast over long distances. In the course of such runs, the body pressed on my unprepared joints. As a result – pain in the knees and the inability to run now.
It was also my mistake that I ran on the asphalt (a treadmill, ground, and a covering at the stadium – these are ideal coverings for running). The most important thing is that I ran wrong, when I hit my foot with asphalt, it came on the heel and not on the toe. Do you understand?
There are a number of useful literature, which tells in detail about the correct techniques of running. I want to recommend the book of the legendary runner Godon Piri Run quickly and without injury. Thanks to this book, I realized that the shoes in which we run are very important.
The right choice of sports shoes
Nowadays modern running shoes are shoes on a large springy platform (especially around the heel). Manufacturers thus want to protect the joints of the runners. It is understood that a thick platform on the heel will reduce the force of impact when the foot touches the asphalt.
In fact, the correct technique of running practically does not use the heel. The whole blow falls on the front of the foot. It turns out that in modern sneakers it is almost impossible to run correctly. Heavy platform on the heel, does not allow easy to step on the socks, it pulls down.
Light running shoes with a flat sole are considered ideal for running shoes. This shoe is similar to ballet shoes, only it should fit the foot very tightly, and have a thin, but strong sole.
You know, initially, people generally ran barefoot. Nature is created so that we should not get injured when running, regardless, in fashionable sneakers, we run or barefoot. Pay attention to what professional runners run in competitions. None of them are wearing big sneakers, they all run in shoes with thin soles.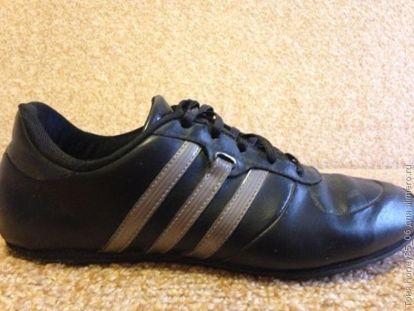 Without a doubt, with the wrong technique of running shoes with thin soles will bring great harm. Therefore, learn to run right at once.
Are there any runners among the readers? Share your tips.