On the eve of spring-summer, I, of course, began to seriously think about the plan to bring my body into a presentable appearance after all the winter holidays. And there are a lot of reasons for a feast in our family, besides traditional holidays (New Year, Christmas, St. Basil, Ivan Jordan, etc.): my husband, son and I were born this season.
Probably, many will tell me that it was necessary to just keep myself in tight rein in the winter, so as not to drive off excess deposits. But I'm not so sad about the figure, so I eat almost everything, the only thing I try not to eat in the evening.
Vacuum massage technology


Of course, fasting days are also present in my plan, but losing a few extra pounds is not so difficult, but what to do with the skin so that it does not lose its firmness and elasticity? This is where advice on the use of vacuum cans came to my aid.
The method itself is extremely simple – you can rub your body with banks in turn in each zone or only selective problem areas. You should not feel sorry for yourself, the rubbing intensity is directly related to the subsequent effect.
I want to say that it was only literally the first 2-3 days that hurt, then the body adapts to the intensity of the cans.
What do canned massage?


At first, I decided to try this massage with the help of a manual breast pump, since I read that it can also be used. Maybe someone is suitable, but I did not like to do a massage with a breast pump. I could not fix it properly, the grip was also weak.
Then I decided to switch to using glass jars (the very ones that warmed the back and the chest in sovdepov times). It was even worse … Banks were constantly slipping, unwanted air was forming inside, and the entire effect of the vacuum massage was lost.
Then I decided not to skimp and buy myself silicone massage jars, besides, it is quite affordable pleasure for a family with an average income.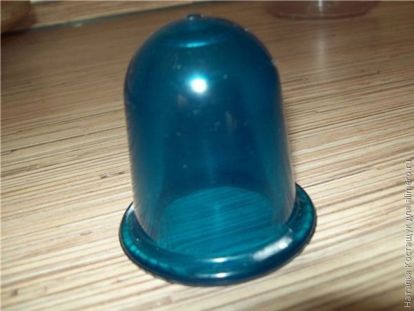 Armed with my new jars and anti-cellulite oil with orange aroma (the smell is just a fairy tale!), Carefully chosen in the nearest pharmacy, I finally got what I was looking for.
Related procedures for canned massage


For greater importance after the massage, I also added a wrap with a mask of clay on the problem parts. The skin has become smooth, like a baby. But the result should be assessed after a couple of days, since at first the skin looks reddened after cans, often even small bruises occur.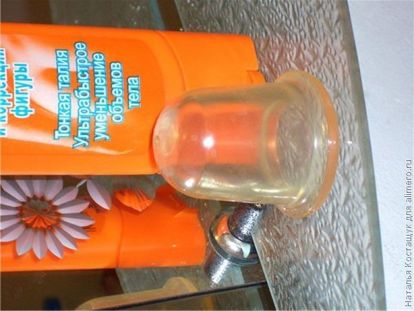 In addition, I rubbed a special cream into the skin every evening (here you have to choose, based on the condition of the skin: tightening, moisturizing, etc.).
One of the most important components of canned massage is anti-cellulite oil. Save on the amount of oil is not worth it.
The effect of canned massage


At first, I was counting on visible results after the first session, so please do not repeat my mistakes. Everything will come with time, you just need to believe and do not despair! From my own experience, I can say that somewhere closer to the tenth procedure, I myself (and even my husband, which is especially nice) noted that the skin became elastic, very pleasant to the touch and the abdomen was blown away.
Contraindications to conduct a vacuum massage!


Before proceeding with the procedures, I first went to study information about contraindications and the possible effects of massage.
I can say that people suffering from varicose veins, acute illnesses and exacerbations of chronic diseases; thrombophlebitis; with skin defects in the affected area; increased fragility and permeability of blood vessels; various cardiovascular diseases should abandon the idea to practice this method.