Once upon a time, when I had a lot of free time and some extra money, I decided to make a company to my girlfriend and started going to fitness after work. Not to say that then I had some problems with the figure, I just wanted to be athletic and fit.
As we all know, shaping itself is only part of going to a fitness club. Many women pay attention to the physical forms of others, to what they are wearing, and try not to look worse on their background. So I, having considered the most slender ladies around me, decided that I also absolutely needed the same training shorts as theirs.
I searched the internet for information on slimming clothes. As a result, came to the following. It is best to take not shorts, and breeches, as they capture the entire thigh. And it's better to let your hip lose weight than its half, as in shorts.
Slimming shorts are more likely for those who want to reduce the size of the buttocks, whereas breeches can help with the reduction of almost the entire leg to the ankle. Therefore, I have determined for myself that I will take the breeches.
My breeches (Artemis Deluxe) are made of neoprene, it is a very dense material, similar to diving. And from the inside, the breeches are completely covered with white cotton lining. Thus, they are pleasant to the body, do not cause discomfort. And from the outside they even look glamorous, like shiny leggings.
The effect of breeches for weight loss
On the packaging, they promise to lose weight without effort, the effect of the sauna, micro-massage, increased blood flow in problem areas, getting rid of cellulite, etc. In fact, what really is is the effect of the sauna. If you just walk into them at least, you are already beginning to sweat, and excess fluid comes out.
Due to the density of the breeches, a thermo-effect occurs, the skin begins to give off moisture to cool. You lose fluid, but not fat. Therefore, based personally on my experience, I can say that the breeches are good at playing sports, because everything is well sucked down, it is easier to do exercises, the risk of injuries is reduced; you sweat very well in them, thus losing weight; when applying a slimming cream before class – in the end you get a delicate and smooth skin.
They are convenient in that they capture not only the area from the middle of the leg to the hip, but also the waist. The breeches' waist height is several centimeters above the navel. Therefore, we get a triple effect: losing weight booty, losing weight legs, losing weight waist.
By the way, I also wore breeches immediately after childbirth, in order to quickly lose those extra pounds. Since exercise was forbidden, I put them on my jeans bottom and walked with a pram in them in the winter. They are very well utyagival belly, even better than a special bandage.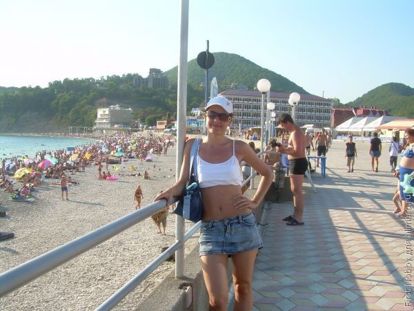 Here it is important not to sweat much in them, as in the cold it can turn into a cold.
In addition, I use breeches during wrappings, I wrap food wrap, and I wear breeches on top. They are all very well hold and increase the thermo-effect, making wraps even more efficient.
Of the minuses: the lightning broke pretty quickly, so there is practically no waist tightening effect. That is why I want to buy new breeches without lightning at all.
After each workout, they are wet and do not wash well. Therefore, I dry them on the balcony, away from my husband's eyes.
My breeches for weight loss have been around for about 6 years and have always served me faithfully and faithfully. The centimeters will be gone, but if you do not practice them, it will be only water, not fat. You should always lose weight in a complex, using several methods, then the effect will not take long to wait. Good for body wraps and just to increase the effect of thermo-slimming creams.