Very often, while working on the booty and the press, girls forget about another important part of their body – their hands, considering that dumbbell exercises are a man's occupation. I will say that I also thought so before, until I noticed that after I added a little during pregnancy, my hands from the back side began to look not very beautiful.
Then I, having studied the special exercises on the Internet and selecting the most effective ones for myself, collected my training program.
And again about the warm-up

Warm up is holy! I give her at least 5 minutes in my training. The muscles of the arms must be well warmed up, before you proceed directly to the workout.
Exercise number 1

To do this exercise, I take a dumbbell in my left hand (if you do not have dumbbells at home, you can just take a bottle of water or sand, I did it at the beginning). I put my right hand with my right knee on the sofa, resting on them. It turns out that the torso is parallel to the floor, and the left arm is located along it.
I bend my left arm 90 degrees in my elbow, and then slowly unbend, trying to keep my elbow still. Usually, I do 30 repetitions, and then, at the end, I hold the straightened hand and count to 30. I must do the same with my right hand.
This exercise is working perfectly on the triceps. By the way, raising the arm should be done on the exhale, and lower the dumbbell – while inhaling. This will enhance the effect of the exercise.
Exercise number 2

To perform this exercise, I sit on the edge of the sofa, put my legs shoulder-width apart, keep my back straight. I take a dumbbell with my hand and straighten it above myself. Then I begin, slowly bending the elbow, lower it behind my back. Then, just as slowly, I return to the starting position. I repeat this 30 times. Then, I do the same thing with my other hand, and at the end, I take the dumbbell with both hands and repeat this exercise 30 more times.
This exercise also perfectly trains the triceps and tightens the back of the arms.
Exercise number 3

But this exercise not only strengthens the muscles of the arms, but at the same time, the hips and buttocks. Starting position: standing, feet shoulder-width apart, I take a dumbbell in my hands and hold them along the body. I keep my back straight.
I make a deep lunge forward with one foot, at the same time spreading my arms to the sides, perpendicular to the body. Returning to the starting position, hands down. I repeat this exercise as usual 30 times.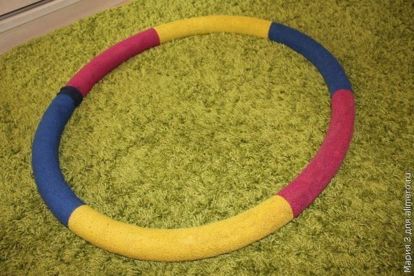 Want graceful, thin handles? Do these exercises at least three times a week. The effect is not long in coming.
And what exercises with dumbbells do you do? Like the effect?