Well, as promised in the previous topic, I share the basics of effective fitness at home. I do not give a 100% guarantee on recommendations, because I cannot see how honest you are with yourself during the classes. But perhaps the information somehow systematizes your knowledge.
Home Fitness Rules
1. Make yourself a program. And do not deny, they say, I am not a coach, where to me to such peaks. There is nothing difficult to write yourself a list of exercises. But your classes will become organized, you will not be confused every time, wondering what I should do today or what exercise to do next.
2. Include in one exercise as many joints and muscles as possible, especially large ones. Hip, butt, belly, back should work first. It is possible to load everything a bit in one workout, you can work on some muscles for a day, a day on others, etc. Choose your scheme.
3. Combine exercises. Many people think that the so-called cardio, aerobic exercise is the most effective means of losing weight. Therefore, to the seventh sweat jump with a rope or every day draw circles in the stadium. And it is much more effective to combine them with strength and gymnastic exercises.
4. Surprise your body. Sooner or later, the muscles get used to the same work, so about once a month, replace the exercise with a similar one. The benefit of the Internet is a lot of information on this topic. It is possible (and necessary) to change training programs.
This is especially important to take into account when doing exercises for some video. When you feel that you have stopped loading in the same way as before, or you are just tired of performing these movements, it's time to find a new video. Or do the same, but with large repetitions or weights.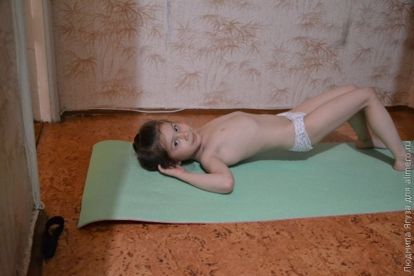 5. Be patient. Do not wait for the result in a month. Everyone says it, but not everyone wants to hear it – the result will appear if you practice regularly and for a long time. Make fitness part of your life, enjoy the process – it's easier to achieve regularity.
6. Set a goal. Sometimes this is the best motivator to practice. Evaluate your strengths, set yourself a level, say, in a month to do 30 pushups, 30 squats and 30 twists per press. Did not work out? Think about what you did wrong, and try to do it next month.
7. Food and more food. I don't tire of repeating, but if you don't start gradually changing your eating habits, then little will change in your appearance. And the wrong programs, incompetent trainers and defective simulators will remain guilty.
That's the way to the top in general about the most pressing. Although the topic of nutrition probably requires additional discussion.