Comments to my latest topic on fitness prompted me to a positive inference. Ladies still strive for beauty and health – this is a plus. But they do not always do it productively – this is a minus. Cheers cheers! I can be useful if I share with them my knowledge on this topic.
I sat down to write recommendations and realized that they would be useless if I didn't dispel the basic misconceptions about home fitness, and in general classes. So, what are the ladies mistaken when they join the sport?
1. The main thing to set a goal, the rest will follow. To achieve the goal, it is necessary not only to formulate it, but also to check for adequacy. That is, if the lady wants to remove the hanging belly for a month, doing the usual twisting – this is an unrealistic goal. Moreover, this method will not achieve it in a year. Why? We read the following myth.
2. I'll deal with food later. It is not possible to correct the figure with physical exercises alone. I repeat, but the reminder will not be superfluous. If you continue to eat sweet, fatty, junk food in large quantities, no fitness instructor will not help you. What to say about self-study!
3. Many people like to indulge themselves, justifying their laziness. hormonal disorders. Ah, I'm so fat, because after giving birth to a child / nervous stress / treatment I had a hormonal failure! Nothing can be done, I'll go eat three more patties. Doctors say that this happens only a few percent of cases.
4. I want to lose weight only in the pope, hips or stomach. You are welcome! Especially for you come up with liposuction. In another way. The body stores fat everywhere. In addition to subcutaneous, there is also internal, which envelops the internal organs.
The stomach and thighs are the so-called fat depots. There he accumulates in the greatest quantities. Fat leaves evenly from the whole body, but from the depot – at the very least. Just because there it is most.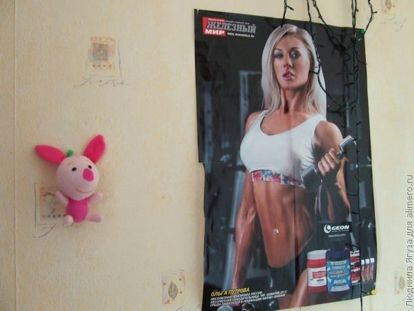 5. The most touching fear of women – build muscle like bodybuilders. Dear ladies, in order for you to have such muscles, you need to plow in the hall with heavy weights in the mode of super-efforts. And this is only 20% of success. Volumetric muscles appear only in combination with a strict diet and always with sports nutrition.
And in order to achieve the relief that bodybuilders demonstrate at competitions, it is necessary to go through another round of hell – squeezing subcutaneous fat. To be honest, I myself in bodybuilding did not notice any aesthetics. But when I personally spoke with world-class athletes, I was filled with respect for them.
Because such forms can be achieved only through great efforts of will. So the maximum that threatens you is dense trained muscles and smooth appetizing tuberosity of forms. And then, if you make the proper effort.
I hope I managed to dispel the main fears. A little later, still make the main recommendations, if you're interested.