Do you like kefir? And let's lose weight with it! Moreover, such a diet not only helps to lose weight, but also very well affects the work of the whole organism.
And all thanks to the fact that the diet is based on kefir. After all, it is a very useful fermented milk product that has a great effect on the digestive system – it removes harmful substances from the intestines and improves its work. In addition, it has a positive effect on the circulatory, nervous and vascular system, and also improves the condition of the skin, nails and hair.
In addition, kefir-based diets are effective in combating kilos we don't need and are considered the safest for the body.
Diet menu

The whole volume of products per day, including kefir, is divided into 5-6 receptions. Kefir is recommended 1%, but I took and fatter. And I mixed it with flax flour – per cup 1 tbsp. spoon. It was a kind of yoghurt 🙂
Drink herbal, green tea and water.
On the day we need 1-1,5 l of kefir. In addition, the diet introduces:
Day 1: 4-5 pieces of baked or uncooked potatoes
Day 2: 100 grams of chicken meat
Day 3: 100 grams of boiled beef meat
Day 4: 100 grams of boiled lean fish
Day 5: 1 kg of any fruit
Day 6: 1 kg of any vegetables (you can make a salad, but without salt and fill, naturally, with kefir)
Day 7: nothing but kefir and mineral water
Since I don't eat meat, I had cereal porridge instead of it on days 2 and 3, and multigrain flakes at 4. And instead of kefir sometimes there was a leaven.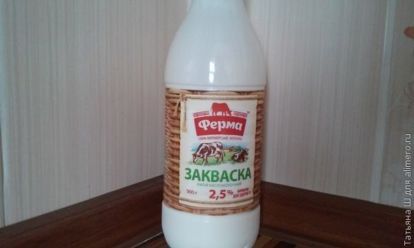 Benefits of Diet

˃ Simple and relatively cheap – no need to chase exotic, expensive products.
˃ Lightness – the menu is not hungry, the diet is tolerated without any problems and with it there is practically no loss of strength or weakness.
˃ Efficiency – in a week you can lose 3-5 kg.
˃ Usefulness – kefir is often used in therapeutic and prophylactic nutrition.
disadvantages

Of course, like any other diet, kefir has some disadvantages:
˃ This menu can not be kept constantly. It is used only as a short-term (weekly) diet or for a fasting day.
˃ Sometimes due to kefir there is fermentation in the intestines, which brings a certain discomfort.
Recommendations

Now on the shelves of supermarkets you can find a lot of sour milk drinks pretending to be a real biokefir, so you should choose very carefully, because for a week this becomes our main meal! Also carefully look at the expiration date.
After the end of the diet it would be good to give up fatty, sweet food and baking for at least 7 more days. This will not only help the metabolism to gently return to normal operation, but also prolong the effect of the kefir diet.
So in 7 days I lost 3 kg, especially not starving 🙂
Have you tried kefir diet? Share your impressions.