Will your child be one year old? Congratulations! You have completed the course of a young fighter. It's time to take intermediate results.
It is long past day X, which was waited in panic. A baby was born. For a long time, you will remember this day with horror, share impressions with your girlfriends and relatives.
Unnoticed, the day of discharge has passed. You vaguely remember a happy father who poked a bouquet in his face and took the little bag tied up with a bright ribbon.
And the first days at home were over, when they didn't particularly notice what was happening around. They noticed only this little creature, which at first was scary to even touch it.
And what a delight he caused, how I wanted to examine him, touch, kiss! But little by little, the euphoria disappeared … and several conclusions can be drawn about life after giving birth.
Let's start with clothes
Advertising shows us charmingly smiling moms in bright clothes and immaculate makeup. They hold no less joyful babies. Handsomely!
Girls, in life is not so! And this is normal! After the birth, I wore prenatal T-shirts, stretched slightly, but comfortable: it was easy to free the chest to feed the child, and the bandage was comfortable to wear at first.
Just do not wear creepy shapeless bathrobes! I had T-shirts, T-shirts, shorts, dresses with cleavage to feed the child.
All mommies are a bit like zombies. Why? Yes, because at first they jumped up every hour at night, and during the day they didn't find time to sleep.
Somewhere in the subconscious we are driven into the idea that the mother always understands that with her child. Not! Therefore, if your child is crying, and you can not calm him down – weep with him.
How many times have I done that. And imagine, after a couple of minutes, he calmed down, and when he grew older he began to laugh at my sobs. For some reason, kids like crying adults.
When my son first fell out of a walker and pressed his forehead to the floor, I was eager to call an ambulance. Over time, you realize that the child will climb everywhere and fall everywhere, and accept this. For educational purposes, of course. Why else would he climb the window? Knows the world …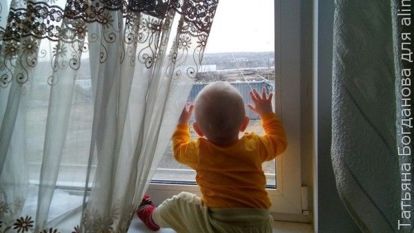 First adult food or lure
Let's return to advertising, where children happily eat mashed potatoes from jars, and parents in white T-shirts are no less happy to feed him? It is optimistic, but in life this suspicious fruit or vegetable mass may not interest your child.
What to do? Do not give it to him. Pretend that eagerly hams puree, turn away from him. My son is ready to jump out of diapers from such a provocation from curiosity. And eat! His first lure was broccoli! I was sick of the smell, and he ate with pleasure.
Guests, more precisely – a trip to visit
Do not do this, do not take a small child to visit friends, especially to childless ones. No, no, not because you have a child, but they do not.
Just remember yourself before pregnancy. Did you like baby crying? Did you like it when mothers changed diapers with their children? It was pleasant for you when the child dragged your stuff in your mouth until you see it? I think the answer is obvious.
Self-control and self-education
Do you like mantras? If not, love it. At least two: It will definitely end and He will grow up someday. I always repeat them when I take the child out of the cabinet in the kitchen; I drag from the toilet, where he tries to gurgle; or take off the window.
Attacks will overtake you at the most inappropriate moments. Most often this occurs in the evenings when the child falls asleep. And also: when you talk about it. Keep yourself in hand! Children don't like being woken up. People do not like it when someone brags.
Sometimes it will seem that your whole life is going down the drain, that this T-shirt and the hair gathered at the back of your head are all that is left of your life. This is also normal. Be patient! Because six months after giving birth you will almost give a damn. And after nine months – do not care. Because a little miracle with a terrible character and your eyes will look at you!