What is yogurt? This is a fermented milk product, made on the basis of milk, which is leavened with the help of Bulgarian sticks and thermophilic streptococcus.
For the first feeding and feeding of a child up to three years old, our pediatrician advised giving live yogurt, i.e. yogurt, which is fermented on the basis of probiotics. Such yogurts normalize intestinal microflora, increase appetite and immunity. These yogurts, as far as I know, have a shelf life of not more than 2 weeks. But the yogurt in plastic cups, which have a shelf life of more than six months, I think that you should not use children under the age of 7 years.
First supplement – yogurt
There are many domestic and foreign producers who offer their products as baby foods. The basis of children's yogurt includes milk, whey, types of sugar, natural berry and fruit fillings. They are similar in texture and taste to baby kefir, but they are also enriched with vitamins and microelements.
We introduced yogurt into the baby's diet at 10 months. Everything went fine, there were no reactions. We introduced all the rules, starting with one teaspoon per lunch. The volume of yogurt that a child can eat, up to 2 years old is 100 ml. The norm should not be exceeded, because In addition, there are other dairy and meat products in the child's diet. And the children's gastrointestinal tract is not yet able to actively digest animal proteins.
Tour of the manufacturers
Leaven Vivo
On the basis of these starters, we introduced lures. These starters are produced at the Kiev Institute of Meat and Milk. My sister lives in Kiev, and my niece is 2 years older than us. Therefore, I began to use them along the beaten track. First, she brought us sourdough, and then we opened a store in the city in which they were sold.
How to make yogurt out of them?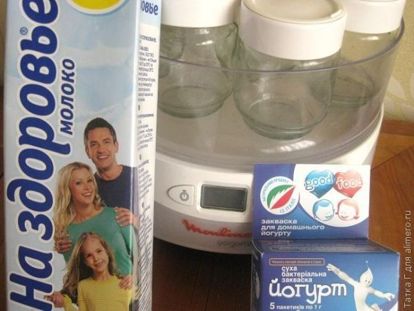 You can usually use the starter twice, i.e. restart the product. I have never done this. The expiration date of the initially fermented yogurt is 3-5 days, and if you do it again, then this adds up to 10 days in total, so I'm afraid to give this to a child.
I use a liter of UHT milk and heat it to a temperature of 38-40 degrees. Then I fall asleep the leaven and mix everything carefully. I pour it in jars and put it in a yogurt maker to ferment for 8-10 hours.
Two times I used homemade milk, and both times my yogurt did not work (whey exfoliated). Although the cooking technology was the same.
Shop yogurts Theme and Agusha
Yogurt Theme we tried in 11 months. Of course, in taste, I like them more than sourdoughs. They just look like familiar adult yogurts. We ate them for one week. Everything was fine. Then we went to the hospital with an intestinal infection. The doctors told us that we were poisoned with milk products and this is not their first case.
I can not say that I am against these manufacturers. Maybe they have everything in order with the technology of manufacturing such products. Maybe the supermarkets in which we bought yogurt, just do not adhere to the storage conditions of products. But I had a sad experience.
Now we make all dairy products based on these starters. I first started using them when the Vivo leaven disappeared for a while from the shops. And then they appeared in the pharmacy, where my mother-in-law works. Therefore, buying them, I know for sure that they have a normal shelf life and all storage conditions are respected there.
I believe that it is worth the children to make yogurt on their own, because no one will fulfill all the sanitary conditions as you do for your child. Now, at 2.6 years, we can sometimes buy a Kefir Subject or Agusha store, but I only melt some of the cottage cheese, i.e. I do not give without preliminary heat treatment.