It doesn't matter where a mother, a shop, a hairdresser or a hospital should leave, the question arises: with whom to leave the child? For me, this problem is doubly relevant, I need to leave two little daughters.

Husband
Leaving children with dad is ideal. He knows that they love how to play with them, and children are easier. But, unfortunately, the husband works daily, which means that children can be left with him only on weekends.
These days you can arrange shopping or take care of your appearance, but if you need to go to any government agency, you should look for another babysitter. Ask for a husband from work can not endlessly, and indeed there is no point in it.
Although, when I gave birth to my second daughter, it was the dad who nursed the older child. We were lucky, we agreed that the eldest daughter, who was only a year old, was given a sick-list at the children's clinic. And it turns out that I did not have to take leave, my husband was just on sick leave with a child.
But sometimes, even with the opportunity to leave the child with her husband, I want to spend time with him together. Relax, go to a cafe or a cinema, and maybe just take a walk.

Grandmothers and grandfathers
When I leave the children to my mother, I am completely calm. I am sure that everything will be all right with them, she will feed them and, if necessary, put them to bed. My mother knows the children well, she often comes to visit us, helps, plays with them.
But while we left the children to mother for only a few hours, she spent a maximum of half a day with them when we went to another city for business.
Often my mom comes to us with my dad. Grandpa is not left alone with girls, but helps to nurse them.
In case of emergency, I leave the children with my grandmother. She is already old, it is hard for her to be with two children, but she always happily stays with them if necessary.
By the way, many grandmothers spoil children too much, indulge them in everything. And then, having come home, the child becomes uncontrollable. I did not notice this for my children, but many parents complain of such a problem.
We don't leave the children with the mother-in-law, and she herself doesn't strive to communicate with her granddaughters. My girls don't know her, she comes to visit twice a year. Although lives closer than my parents.

Nanny
I often think about finding a nanny. This will become especially relevant when I go to work, and children are not taken to kindergarten. Some of my colleagues easily trust children to nannies, they say that it is more profitable to pay her and work than to continue the decree for up to three years and sit without money.
I'm somehow wary of strangers. And I'm not sure that the children will be calm in the nanny society. It becomes especially scary when you watch programs about how babysitters behave with children. But maybe I just wind myself up.
You can search for a nanny in different ways. If necessary, I plan to use the services of special recruitment agencies or to find out from friends who they will recommend. Entrusting children to an unfamiliar aunt is very difficult.

Game rooms
It seems to me that the ideal option, if you need to leave for a few hours, is to leave the children in the playroom. They are now in every city. As a rule, professional teachers work there. And often in the game rooms there are still children. So, it will be interesting for kids to play with their peers.
The downside is that it is more expensive than hiring a nanny at the same time. But, nevertheless, to leave children there, I am much calmer.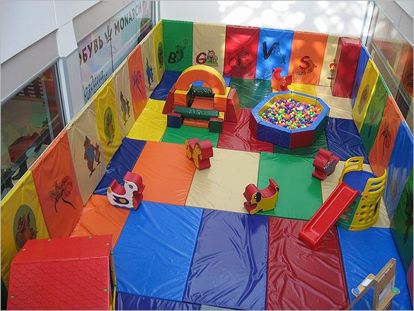 By the way, we were lucky and there are several game rooms not far from the house. But if I had to take the children to the other end of the city because of a few hours, it would probably not be profitable. Easier to go for children.

Alone at home
The question of how old children are left alone at home is that many parents are tormented. Perhaps it all depends on the child, some become independent as early as 6-7 years old, and someone is afraid to stay alone much longer.
One friend says that when the children are sleeping, she can quickly run to the store or the bank. I am afraid to leave my girls alone, even if I am sure that they are sleeping soundly.
And another girl told me that she left the children alone, but included Skype and asked her sister to look after them. Children 3 years and 6 years. Of course, you can leave the children so, provided that they are constantly in sight, what if they run into another room or turn off the computer themselves?
So far, the most acceptable options for me are: to leave the children with the grandmother or in the playroom. Interestingly, with whom do you leave the children?