In my previous topic, I already wrote that we have a grand event ahead of us – the anniversary of our daughter. Among the gifts that we ordered were floor swing. My husband's sister took this purchase, and since she is a responsible lady and so far without her own baby, she asked me to go to the store with her and help me with my choice. Of course, I gladly agreed, and we went in search of the perfect model for us!
Today, shops offer for kids a huge selection of various swing models, as they say, for every taste, color and, of course, wallet. We immediately realized that we would have to stay here for a long time.
I really liked the electronic swing – this is the dream of any parent. They have a built-in vibration mechanism, so there's no need to stand side by side and swing them all – they will do all this themselves. Here you can choose the rocking mode, and include music – just a fairy tale. But one thing – they are quite expensive, and we were not ready for such expenses.
Next, we saw a swing, which are mounted in the doorway – quite a budget option! In addition, they can always be removed and taken away, for example, to the country and there to entertain the baby. But, despite all the advantages of this model, it unfortunately did not suit us. First, such a swing does not have seat belts, and our child loves to jump out from everywhere. Secondly, the dimensions of our apartment do not allow to place them in doorways. Anyway, the shoals we have quite frail. We decided not to risk it.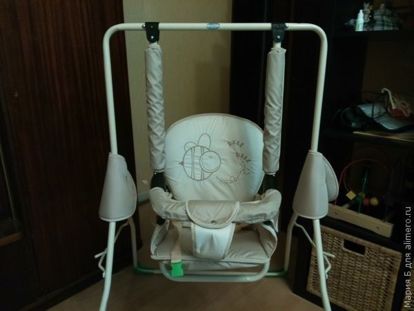 And, finally, we saw a swing on a support, which is made in the form of a frame. On this support hangs a comfortable chair. They look very much like a street swing, only more compact, more mobile and much more comfortable. They have a very soft and beautiful seat, which is easily removed and, if necessary, can be washed. In addition, these models offer a lot of variations to protect the baby from slipping – just a handrail, seat belts, or two in one – and a handrail, and belts.
Of course, I, like a mad mother, who always worries about her child, chose the latter option. The gift was found, and we tired, but satisfied went home.
Installation and first tests
I must say, I was pleased with the installation and assembly of such a swing – everything is quite simple, fast and convenient. Naturally, I did not wait for my husband and quickly unpacked the box.
One hand movement – the frame was moved apart and installed on the floor. I must say that we have laminate, and I was worried that the design would crawl. But the manufacturers have foreseen everything and on the lower part made special nozzles that solve this problem. In addition, the swing is quite light and can be dragged without much effort.
Then I put on a soft seat cover, set up the handrail, fastened the incline of the seat with comfortable handles, and that was all – a wonderful attraction for my daughter was ready.
The child really liked the rocker – now she sits in them for twenty minutes and laughs incendiary. Of course, it must be constantly shaken, but it is not at all a burden. That baby is good – and my mother is happy!