When I just had a daughter, I didn't even suspect that from the very first days we would need to constantly visit doctors. But the visiting nurse, who came to us the day after discharge, said that we need to do an audio screening and pass tests to get registered at the children's clinic.
When my baby was 2 weeks old, we went to do audio screening, which in the hospital we could not do because of the lack of equipment. My impressions were not the most optimistic – long, far, hard both for me and for the child.
The first visit to the children's clinic exhausted me and was very surprised. We were told that on Thursdays there was a healthy day and that the doctors were taking babies. But in fact, with us in the same queue were children of different ages and some of them were clearly sick.
I was very worried then and I was afraid that we could get infected too. But everything turned out to our joy. In addition, we sat in a queue for a long time, and my daughter was very quickly tired and began to be capricious.
In the hospital, I was lying with a girl who worked at the children's medical center. It was from her that I first heard about such a possibility as patronage. And my husband and I decided to go to the nearest clinic to us and find out all the conditions of this program for the little ones.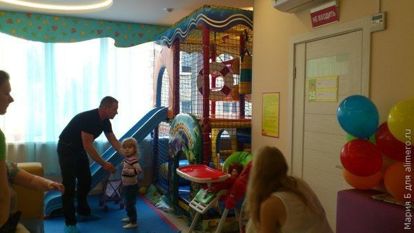 Choosing a patronage program
The necessary children's center is located 15 minutes from our house, which made me very happy. We had to go not only to the clinic, but also to go for a very long time.
At the medical center we were very interested and temptingly told about all the options for patronage. It turned out that you can even choose a program according to which the doctors themselves will come to our home and examine the child.
I really liked it, because I absolutely did not want with a small child to lug along the transport and sit in queues with sick children. In addition, the clinic staff conducted a tour for us and showed a pool for infants. As a bonus for children who are on patronage, they provide 5 classes for free.
Of course, the cost of the program, I will tell you, is not small. But I am a very suspicious mother, and therefore we first decided to arrange patronage for half a year with the departure of the house. And there we will grow up and we will be able to go on scheduled inspections ourselves.
Our patronage life
And then began our patronage life. For 6 months I had the feeling that the doctors came to us all the time. A pediatrician, a surgeon, a neurologist, an allergist, an orthopedist – and so on every month.
They always called in advance and warned about their visit. All doctors are very polite, in clean coats, with shoe covers and all necessary equipment. In addition, even tests were taken from us at home, and they were allocated special jars and urinators for this purpose. In general, it is very convenient for me and for the baby – we did not need to go anywhere, but we were always under observation.
But the most important thing in the patronage program for me was that I could call my pediatrician at any time, day or night, and ask a question that concerned me. Considering that I became my mother for the first time, any sneeze of a baby, any cry caused a lot of questions to me. For six months, I called a bunch of times, and the pediatrician always helped us and soothed. This, of course, gave me confidence and calm.
And, of course, we took advantage of a nice bonus and went to the pool for infants. We liked the lesson very much, my daughter and I got a lot of impressions.
We were very sorry when the program ended. But I understood that it was time to go out and see, and, in fact, temper the baby. After all, if you grow it in greenhouse conditions, then the baby can constantly hurt from the slightest draft.
I got so used to this center that we decided to continue to be observed there, but no longer buying the program, but paying for each visit to the doctor. For us, this is convenient – close, strictly by appointment, and there is no contact with sick children in the acute stage, since special room has been allocated for them there.
Mommies, what did you choose for yourself?