My son walked one time on socks. At first it caused affection. But very soon, the whole family began to worry. At the next examination, the pediatrician explained that the baby's walking on the toes is associated with hypertonicity, that is, increased muscle tone.
They explained to me that, most likely, the problem arose even during pregnancy or at the birth of a child. The source of the trouble could be a malnutrition of the brain, or rather the factors that led to this.
Such factors, unfortunately, can be enough. For example, exacerbation of chronic diseases, various complications of pregnancy, threatened miscarriage, fast / prolonged delivery, the umbilical cord around the neck, etc.
In our case, it was a prolonged birth and a long anhydrous period.
Of course, one of my first questions was: Can this be cured ?. It turns out, yes! It is necessary to treat, because such an incorrect walking can lead to a distortion of posture, the appearance of pain in the legs and back, and even problems with running and coordination can occur.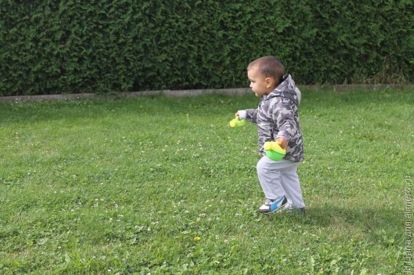 Specialists, whom I bypassed, in one voice recommended doing baby massage and special gymnastics. For two weeks, a woman-massage therapist came to our house and massaged, massaged … But we worked together with the kid in gymnastics. The exercises consisted in the fact that when my little son lay on his back, I bent his leg to the tummy, and then carried out the flexion / extension of the foot of the son.
Older children are advised to walk on their heels, crouch without taking their heels off the floor. In addition, the pediatrician has advised constant walking in shoes, even in an apartment. At the same time, the sole must be rigid, the lifting of the foot must be well fixed with hook-and-loop fasteners or lacing. We purchased the wonderful geox sandals.
My husband and I strictly forbade close people to tell the crumbs that he walks like a ballerun, and make fun of it. After all, the baby regarded it as a compliment and praise. I, on the contrary, began to constantly tell the child to walk beautifully, stepping on the whole foot.
Now this problem is a long time in the past, and my son has long since forgotten how to walk all the time on socks.