Every day I walk with the child at the playgrounds. And every day I watch screaming indignant moms and naughty kids. Therefore, I am already thinking about the question now, but how can I communicate with the child correctly so that he can hear and understand me?
Based on my observations, it is difficult for me to derive some rules for successful communication with a baby. But the mistakes of the parents are visible to the naked eye. For myself, I fix them. And today I want to tell you about my observations.
Error 1. Lack of eye contact.
I often see how parents begin to teach the child at the moment when he is busy playing with other children and simply does not hear the words.
For myself, I noted that the first thing to start a conversation with is making eye contact. To do this, switch the child's attention to yourself, look into your eyes, squat down, turn on your name.
Error 2. Complicated requests.
I often hear mothers talking to children with interrogative and indirect sentences. For example: Do you have anything to do, what do you play with stones ?, Do you like walking dirty? It is difficult even to me to guess that my mother's question is a guide to action.
It seems to me that a request will be more understandable in which there will be a guide to action.
Mistake 3. Verbosity.
Frequent mistake of many moms. After the main instruction has been sounded, to supplement it with memories from the past, with a forecast of a distant future, or simply with an emotional murmur.
I am not surprised why the child does not remember what exactly he needs to do. How is he not at all confused in this stream of unnecessary information?
Error 4. Raising the tone.
From the school article, I remembered that shouting in my address caused anxiety and fear. And they, in turn, block my ability to think.
The only thing that my mental activity is directed to at the time of the cry is how to avoid it faster.
At such moments, the kids say that everyone understands or asks for forgiveness. But I'm not sure that they understood the reason for my mother's screams.
Moreover, over time, they can perceive the raised tone of the parent as a background, and stop responding to it.
Error 5. No alternative.
Very often I hear babies pulling out the phrases: Do not take this stick, Do not climb in the sandbox, Do not tease the cat, etc. In exchange for prohibitions, the baby is not offered anything.
I regularly ask myself why not to offer a child a toy or a toy? Why not take the ball from the house or not to agree with the moms of the other children to walk together, so that the kid would not throw chestnuts at the neighbor's cat because of boredom?
Error 6. Waiting for the baby.
Periodically, I encounter parents' frustration and anger at children who do not correct their behavior after the parent's command. For example, a baby cannot immediately get up and go home for lunch at the time of the game in the sandbox.
As far as I know, voluntary attention (the skill of willpower to distract from the interesting in favor of the necessary) is formed in a child by the age of 7. This means that quickly switch from what is interesting to him that you need, a small child simply can not.
Error 7. Inability to listen to the child.
I often see a child trying to tell his mother something, and she is keen on talking with a friend or immersed in her thoughts.
I understand these parents, as I myself constantly think about something important. But is it considered that I spend time with the child, if I don't devote a few minutes to him to listen to him or play with him?
It seems to me that children deprived of the full attention of their parents are forced to beg for it. And often do it not quite pleasant actions.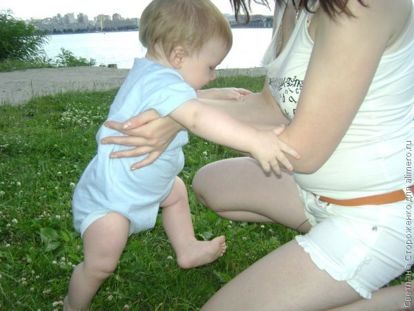 How simple it is


The more I observe and try to analyze the behavior of parents, the more I understand how much responsibility they bear with the advent of the child.
Do you know any other reasons why the kids do not hear us?