To make the first attempts to sit down, my son started quite early – at 4 months. I admit, I was somewhat disturbed. As far as I knew, there is nothing good in the fact that the child will start sitting early, no.
Memories of how my relatives raised their children, I have some doubts about this. Some after the first attempts of the child to sit down, he was surrounded with pillows from all sides and joyfully told everyone that their child was already sitting. Others preferred to seat the child in jumpers or walkers. Still others, almost from birth, carried their children in a sling.
Personally, it all seemed somehow unnatural to me. Of course, I waited with impatience for the child to sit down (as she had been waiting for his first smile, first laugh, first tooth). But at the same time believed that everything has its time. However, the attempts of the child to sit down so early puzzled me, because I did not understand whether he needed some help with this.
Then, out of habit, I decided to look into the Internet. A large majority of sources found information that, on average, children begin to sit in 5-6 months, however, this range may move slightly upwards. Also there it was written that boys can sit down earlier than girls.
But along with this, I found information that early sitting down a child can harm his spine, regardless of the child's gender. After all, this is a big load for an unprepared kid. The authors of this opinion asserted that, in principle, it is not necessary to help the child sit down. When his body is sufficiently developed, the child will sit himself.
The second point of view was closer to me, so I decided not to rush and give my child the opportunity to independently learn how to sit down.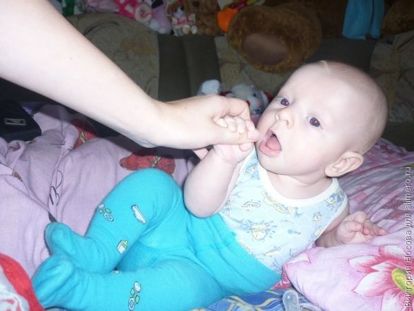 Since then, the son has made many attempts to sit down every day. But the first time he did not succeed. He raised his head and torso a little, but he lacked a lot of strength. Unsuccessful attempts to upset him, he began to act up, cry. But I did not give up. Once I decided that I should sit down myself, then myself.
At five months baby learned to sit sideways. He lay on his side, leaned with both hands and sat down slowly. At the same time with one pen he rested on the sofa or on the floor (depending on where he was), and the second was looking for something to grab. Most often I chose my hand as an additional support. Such sittings were very short in time, the son very quickly got tired and lay down.
By 6 months son learned to sit confidently without support. And I was able to share with all the news that we are already sitting.
And how much did your children learn to sit?