Being pregnant, I enjoyed bathing with great pleasure. Perhaps that is why, after the birth of my son, I wondered at what age you could take him there.
Many relatives who have their own bathhouse suggested that my husband and I introduce our son to her as soon as possible. We were convinced that this would only benefit the child, strengthen his health. After all, earlier in the baths often gave birth, and children, since birth, were washed there.
But I had great concerns about this:
1. The temperature regime of the bath, I considered not quite suitable for a newborn. As far as I know, a baby has a completely different system of thermoregulation than an adult. In addition, if you believe Dr. Komarovsky (whom I love to watch and listen to), young children have undeveloped sweat glands.
2. I was very worried that on the way from the bath to the house the child could catch a cold. And although my relatives vied with one another that they only needed to properly wrap it in a towel and a warm blanket, I did not give up.
Introduction to the sauna
At 8 months, my husband and I decided to try to bring my son to the Finnish sauna. Previously, I already wrote that from a fairly early age, we carry the baby into the pool, because he loves water very much. So, in the same place next to the pool there are several saunas (Russian, Finnish and Turkish).
We chose a sauna for humidity, in Finnish it was the lowest (10-15%). And, as far as is known, the higher the humidity, the stronger the temperature is felt.
In general, we took a towel, wrapped a son in it and entered the sauna. Inside they chose the coolest place, unfolded the child and began to watch him. The son took what was happening positively. Seeing that there are other visitors to the sauna next to us, he began to get acquainted and communicate with them.
After some time, he turned pink, and there were drops of sweat on his skin. But his state of health was good, he had fun. True, we did not risk, and after a minute went back to the territory adjacent to the pool.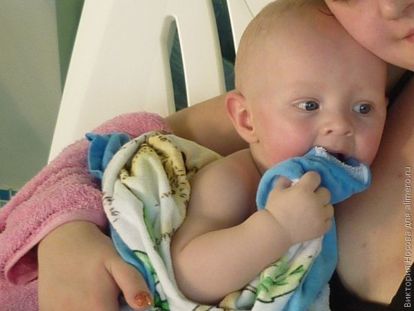 My husband went to swim, and my son and I went to the shower to wash after the sauna with warm water. After that, we had some rest, I gave the child a drink, and we repeated the call. Everything went well again. The kid liked this innovation.
Meet the bath
Two months later, we decided to take the child to a regular bath. It was quite warm outside then, and the bath was already cooling down, the temperature in it was 35-40 degrees. We had prepared a bath with warm water and bathing toys in advance. In a basin next to they prepared cooler water for rinsing.
At home, the child was wrapped in a towel, then in a blanket, and carried to a bath. Contrary to my concernsbath son relished. About five minutes later he happily splashed into the bath. Then, a little tired and blushing, I asked to go home. After rinsing, we wrapped him up well again and carried him home, where he quickly fell asleep (having only had time to drink water and dry off a little).
Since then, our visits to the baths have become permanent. About once a month, when we visit our grandmother, my baby and I go to a cool bath. Sometimes the husband arranges useful inhalations for the son, dousing the warm stones with a chamomile extract.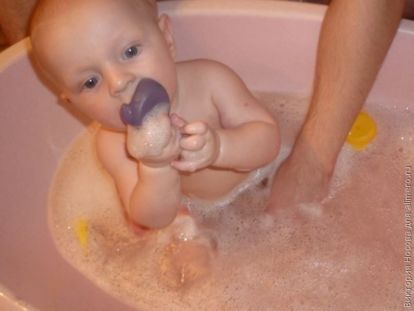 But I note that we visit the bath only when the baby is healthy, alert, full and in a good mood.
And in your opinion, at what age can you acquaint the child with a bath?