A baby cannot always eat only breast milk or formula. Gradually, you need to accustom to the usual food.
Opinions of doctors, as always, were divided. Some impose the traditional scheme of feeding, when the products are introduced in a certain sequence. Others advise to adhere to the pedagogical scheme when the mother feeds the baby from her plate in small doses.
What to choose? I will not give advice, I will better share my experience.
We feed according to the traditional pattern
New foods need to be administered in small portions, starting at 6 months. By this time enzymatic systems mature, the child begins to look into the mother's plate with interest. For the first time, it's always scary to offer your baby something new.
I was advised by the visiting nurse to give babies a teaspoon of carrot juice every day at 2 months, gradually bringing up to 50 ml. I followed her advice and only later learned that the juice should be given to the baby when he was already eating vegetables and cereals. Like this.
I began to teach my older daughter to a new meal, as they say, on a schedule, that is, by month. Even in the hospital, I copied a plate (alas, the leaf has long been lost). Carrot juice made by herself. She rubbed a piece of carrot on a fine grater and squeezed through a cheesecloth into a clean glass. Then she introduced apple juice.
From 4 months she began to introduce vegetable puree, which she also made from carrot, zucchini and cauliflower. Then she introduced the potatoes. At first, buckwheat and rice were ground in a coffee grinder and boiled on water. Kashka did not like a child to taste. Baby diligently spit it out. I had to go to the manna. Manco can not be given to a child until he is half a year old. I cooked liquid semolina porridge on cow's (and then on goat's) milk and gave it through a bottle.
Chicken and beef began to give from 10 months. A piece of boiled chicken meat minced and mixed with broth. Started literally with a spoon. It is not recommended to chew baby food. From the mouth of the mother, many microbes can permanently settle in the child.
Fish begin to give later all other products, as it is a strong allergen. I cooked pollock. It is practically boneless and not too fat. Boil until cooked and give in tiny pieces.
Schi yes porridge – our strength!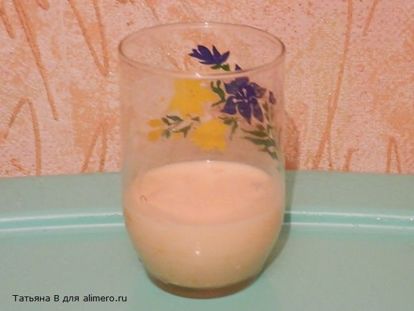 The rest of the children grew up on soups and potatoes. At about 6 months, she began to feed babies with cabbage soup. Shchi cooked for children separately without meat and fried onions. Then she began to cook soups and cabbage soup in meat broth, gradually introduced meat to her food. I fed the kids from my plate. If the kid had already eaten soup, but looked into my mouth with interest, then I gave him macaroni or porridge, but in small portions, how much would fit between my fingers.
I have already heard about juices, so I gave the kids an apple and a banana. A teaspoon scraped off the flesh and suggested that the child eat. The banana is sweeter, it was eaten with great pleasure. Curds and yogurts, especially from the store, I consider junk food. She made ryazhenka herself and gave the kids sugar-free.
It turns out that for the first daughter I was steaming, grinding, grinding, that is, spending a lot of time in order to accustom her to unfamiliar products. The rest of the children learned to eat from my plate. I must say that I myself during breastfeeding did not eat fried, salty and fat, adhered to a healthy diet.