This question came to me long before the teeth themselves))) And I began to read. In general, now there is no consensus on this. Someone (among them there are doctors) believes that up to three years you can do without this procedure, and someone on the contrary, from birth, advises to monitor the purity of the baby's oral cavity.
What to clean if there is nothing?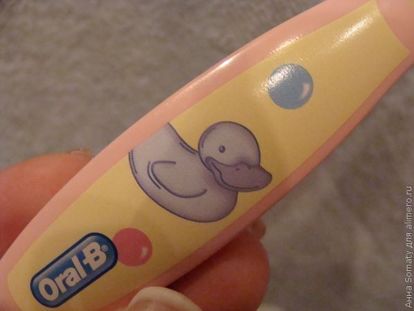 It seemed to me an interesting idea that you need to start cleaning your gums for almost a month. Even in my mother's milk (not to mention mixtures) there is sugar, though not in pure form, and is called differently. But the fact is a fact. And there is a risk of already spoiled teeth. Although, to be honest, I didn't see such babies, and I associate this possibility more with feeding.
Some moms after each feeding (even at night!) Rub the gums of children with a sterile bandage wrapped around a finger. Later, you can use a silicone fingertip, which, by the way, will still stimulate the gums to quickly erupt.
First tooth

Well, the first long-awaited tooth appeared, which means the time has come to approach the process more seriously))) Someone continues to clean with a silicone fingertip, and someone is already buying toothbrushes. The blessing now in sales is the richest choice.
We also bought the first brush to our son in half a year, more likely to teach the process, rather than for the good of the cause. At first he allowed to brush his teeth, but somewhere in the year he covered the shop. Began to clean myself. Well, rather, hack the brush in your mouth. I had to buy the second – for me.
With or without pasta?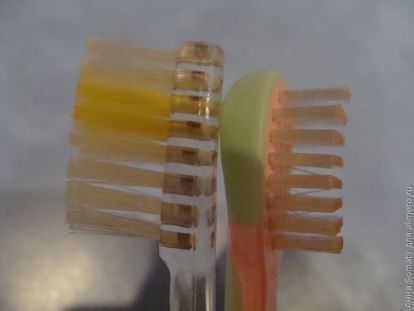 My friend has been cleaning her teeth since the age of six months with the obligatory use of toothpaste, naturally childish. I began to buy toothpaste relatively recently, and even then, we use it through time: I have enough of what is written on the tube (you can swallow). Only now we have more or less learned to spit, and I have hope that not all chemistry will get into the stomach.
Now (the son is 1.5 years old), we use 2 brushes at the same time: I brush one of his teeth (it is smaller, more agile), and the second is used to distract his son (with sparkles and a flashlight). For me, brushing my son's teeth is more likely to prepare him for adult life, for teaching him the regime and rituals, but if it also helps to keep his teeth whole longer, then in general it would be great.
And at what age do you brush your teeth for babies?