The wider my circle of contacts becomes, the more often they ask me a question: when do you plan to pierce your daughter's ears? Looking at the little princesses in the subway, on the streets of the city and even in the courtyard, I notice how the age of the puncture is inexorably decreasing. And I get scared.
Now it is not uncommon to meet a girl who does not yet know how to sit, but already with golden studs in her ears. Is it correct? I want to express my opinion. Of course, it is (as always) very controversial, but perhaps it will make someone think.
Who needs it?
For the first time this question arose before me when my daughter was one year old. It is time – one relative told me. Why? – I replied. Can a one-year-old child want earrings? And half a year? I do not think. My daughter is in her fourth year and she doesn't notice the pierced ears of her friends.
It turns out that adults want this. And there may be several reasons:
– the desire to be like everyone else;
– the desire to avoid pain in the future (the child will quickly forget the discomfort);
– the desire to demonstrate their level of income;
– liked the earrings;
– Well, she's a girl.
In my opinion, none of these reasons stand any criticism. And the argument is, well, she does kill the girl altogether. You might think that without strazikov in the ears the girl will abruptly become a boy.
Something about health

The auricle is the focus of very important nerve endings. It is not fully understood how the points on the ear lobe are connected with the body and what the micron error in the puncture may come about. I personally am not ready to risk the health of my child for the sake of fashion.
And what if the puncture does not take root, will the inflammation begin? Does the baby need these torments, are they worth the ghostly beauty that they supposedly give earrings?
Kids games
Children are very mobile, in 3-5 years it is very easy to hook on the earring with the sleeve and, as a result, to pull out or just hurt, pulling. So is it necessary? Of course, this can happen in a more mature age, but still children become more accurate with age.
Do not wake famously while it is quiet
There are a lot of scum in the world. When I studied in the 3rd grade, my classmates had their earrings torn out of gold on their way to school. Given the crime situation in our country – is it reasonable to put a child at risk?
It is clear that in the kindergarten such a person will not fall, the children are supervised. A junior school? Middle classes, when girls already go to study? Why provoke scumbags, give them a reason? I do not understand this.
Her body is her business
I remember the story when my parents did a one-year piercing. How all the runet was rustling, with what words did not call these parents! But after all earrings – the same piercing, just familiar. It turns out a double standard.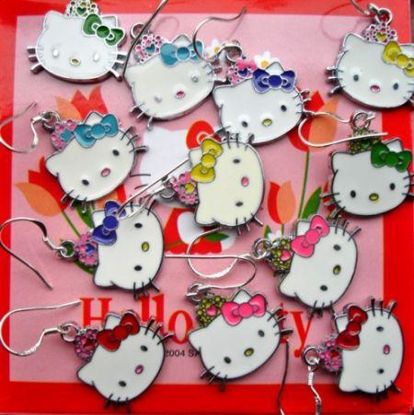 And if to judge sensibly, who gave us the right to dispose of the bodies of our children? Maybe now the tattoo stuffed immediately at birth?
Let the children grow up and decide for themselves if they need it. I know several girls who already have families, but never pierced their ears. And you know what? They did not become less feminine or less attractive. They do not experience discomfort from such a feature. They are no different from the rest. So maybe leave a choice to our children?
By the way, my ears were pierced at 16 years old – my mother and I chose the salon together and went to pierce. Allergies went to the metal and for more than half a year I suffered with terrible repugnance. It was hell.
And now, if I insert a safe or gold earring again, my left ear will fester again. Each organism has its own nuances, and it is better to identify them later, when the child will be aware of the causes and effects. I rarely wear earrings – mostly for holidays and dates.
My daughter is 4 years old. She will grow up and decide whether she needs it. And if he wants, he will make at least a hundred punctures in each ear, tunnels and rods – whatever. But then. Now her task is to grow, and mine is to ensure her safety. Even if it is safety from my desires.