When a child appears, all parents with interest monitor its development. It is so funny to watch him learn something new. When the child smiled for the first time, this is a happy moment for any family. And such events are remembered for a lifetime.
The approximate age for a conscious smile is one month. Maybe this information is inaccurate, but somewhere I read it. Not herself came up with. And although children can smile even to a doctor-uzistu, being in the stomach, this is not a conscious smile.
Our local old people, seeing such a wandering smile on the face of a sleepy child, say: in a birthmate. Do not try me, I do not know what it means … And from grandmothers you can hardly achieve a clear explanation. But some intuitive sense suggests that in this case, you can agree with them.
I will tell about my children.
The daughter showed us her conscious smile in due time – about a month. You know, I did not expect that such a simple event as a child's smile can cause so many emotions. It's so nice! At that moment, the daughter seemed to say: I will recognize you, I am glad you, I love you.
What is a smile? This is a reflex stretching of the muscles of the face and lips in response to some pleasant stimulus. If your child smiles, then it is pleasant, comfortable and he loves you. And what do parents still need?
But I remember more when my daughter began to laugh out loud. With this she pleased us in her 4 months. Laugh her husband's friend. We just came to visit them. My daughter was in a good mood, and her friend was a lover of making faces and making incomprehensible sounds. Apparently, for my daughter at that moment it was very funny.
A son


When my daughter was young, I often sat down beside her sleeping and could watch her for a long time. I have no such opportunity with my son: too little time. But I did not miss his first smile.
He smiled for the first time at two weeks of age. And I think it was a conscious smile. After feeding, he did not sleep, but just lay contentedly on my lap. I lifted him so that our faces were on the same level, and tenderly addressed him, calling his name. Slowly, clearly and in the same tone. I told him how good he is and how happy we are to him. In response, my son smiled broadly.
Apparently at this moment all the necessary conditions coincided so that our dialogue could take place: the calm relaxed state of the child and the distance to the object, that is, me, was about 30 centimeters. This is the distance at which such small children can focus their eyes. In addition, the son was not greedy for a smile (we realized that later).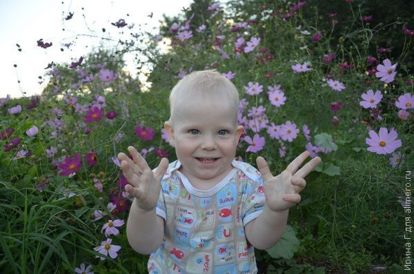 The smile of the baby is very important. Even not only in terms of pleasant emotions from parents. A smile is one of the points of a child's normal psycho-emotional development. Just do not need to rely on any dates and numbers and worry in advance if your crumb does not smile. After all, children are different and develop in different ways. One will laugh early, the other will surprise everyone with his early coup on his stomach.
And be sure to smile!