Now, due to a dramatic change in my life, I had to urgently give my daughter to the kindergarten, to the nursery. Of course, it is still too small, it is only 1.4, but the need is a necessity. I cannot influence the circumstances now.
I approached the choice of the garden very responsibly. First, I chose all those in which they take children from a year in the area of ​​interest to me. And then I went around all together with my daughter to see it in person.
One of the important conditions when choosing, for me were the toys with which my daughter will play. In my opinion, I want to talk about what toys should be required in the nursery.
1. Study of shapes and colors. For this purpose various, large, geometrical figures will be perfect: cubes, pyramids, light constructors. Best of all, if they are bright colors and, of course, from quality materials, preferably wooden. Because, most likely, our children will taste them.
2. Cars and wheelchairs. Not small models, but big ones, on which you can sit down and ride, pushing with your feet off the floor. Moreover, it is desirable that there are several of them, at least 2-3, so that the children do not swear because of them. It is desirable that there were toys – wheelchairs, that is, that you need to hold the wand and roll, but at this time something is spinning on the toy itself, or flapping its wings.
3. Strollers and dolls. Despite the fact that the kids are still small, they already like to play with dolls! Therefore, strollers, various dolls, girls and boys should be required. It is desirable that these dolls could be changed, combed, planted, bending the legs.
4. Cookware. The best toys for my daughter at home are various kitchen utensils. She loves to knock lids, put one in another, put some objects in saucepans. Therefore, such things in the garden should be, only plastic, of course.
5. Pool with balls, houses – tents. Have you noticed that little kids love closed spaces? My daughter loves to sit in the house, play with toys or just nibble drying.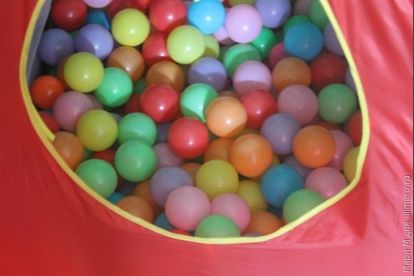 And how she squeaks from an inflatable pool with plastic balls! He likes to jump in the balls, dive into them completely, scatter them around the room and just hide various things there. In my opinion, these are mandatory toys in the nursery group, and not only.
6. Inserts. Toys in which you can insert something. For example, buckets, wooden substrates, in which there are slots for figures, animals, geometric figures.
And what toys should be in the nursery necessarily, in your opinion?