Before the birth of my son, I managed to visit the role of an aunt of five children. And I was always touched by those moments when the kids started to crawl. Someone on the bellies, someone sideways, and someone backwards. Moreover, all at different ages. Despite this, the day when my own son learned to crawl, I waited with trepidation and excitement.
Nowadays, to find information about those or other norms of child development is not a problem. Therefore, I already knew in advance that children usually begin to crawl in 6-8 months. However, all are individual, and these frameworks can easily move slightly up and down. And it will not say that the child develops better or worse than others.
For example, one of my twin nieces began to crawl at 8 months, and the second one missed this period altogether. Although, it seems like an example to follow was always there. Now they are 5 years old and they are absolutely equal in terms of development.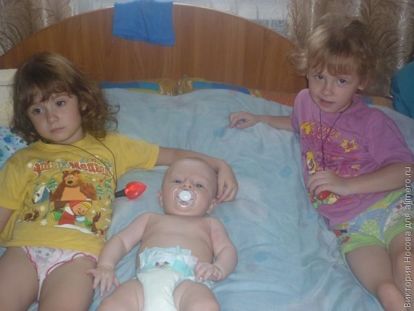 About the benefits of crawling
Pediatricians claim that crawling is a very important period in the development of each child. In the process of it, the back muscles are strengthened in children. In this case, the physical load on the muscles and the spine is much lower than when walking.
I agree with the doctors in this matter. In general, I think that a child should begin to crawl and walk when he is sufficiently prepared for this. There is no need to hurry, because at this age the children are still very fragile, and you can only hurt them.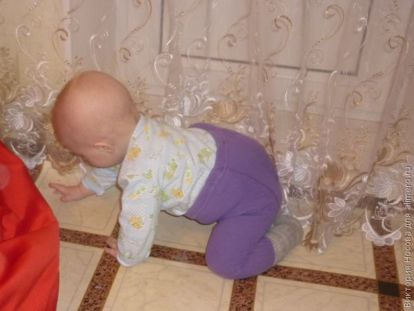 History of crawling son
From birth, I very often laid out my son on the floor, having previously laid him with a rug (to be warmer and softer) and a clean diaper. At first she did it for sunbathing, and then it just became a habit. The floor was much more comfortable than on the couch or in the crib:
– more places
– the surface is harder (the child did not fail)
– no risk of falling and hitting
And now, at five and a half months, I noticed from my son the first attempts to learn how to crawl. He deftly rolled from his back to his stomach, got up on all fours (resting his knees and palms on the floor) and began to sway. It looked very funny.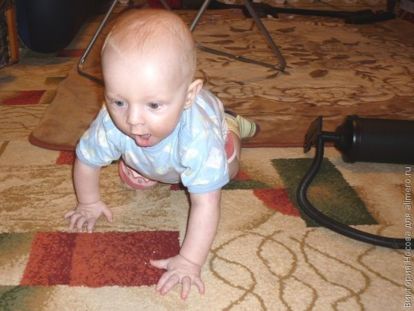 By six months, these attempts were trained to completely correct crawling. He tirelessly researched everything that surrounded him (he touched furniture, legs, toys, pulled curtains, helped to disassemble shopping bags).
My help in mastering the new achievement of my son at that moment boiled down to the following.
1. I monitored the cleanliness and warmth of the floor: I cleaned it daily and cleaned it with plain clean water, and then warmed the rug. I still notice that babies and other children are interested in children much more than toys.
2. Removed from the floor, tables and cabinets all dangerous items that the son could get to, as well as those that could fall on their own. Although, he managed to get to one of the indoor flowers.
3. Protected the child from sharp corners. Before that, I had no idea that my palm could fly in front of him at such a speed.
4. Soap his pens and toys after each crawl. This was due to the fact that he constantly strove to shove them in his mouth or lick them.
5. And of course, he tirelessly praised him for every new success.
A month later, the son learned to crawl so quickly that I barely kept up with him. Even the red rubbed knees could not stop him.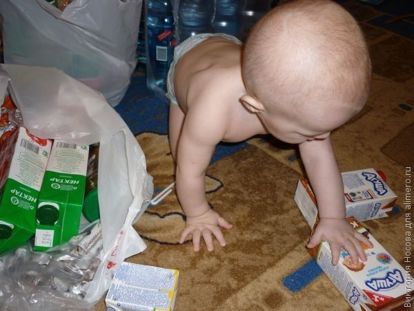 Crawling remained for him a favorite way to travel right up to 11 months. It turns out that, in general, he crawled a little over five months. Until one day I did not understand that it was much more convenient to walk. But that's another story.
And what time did your children start crawling?