My baby is already a whole year and a month. She is so big, she runs around the whole apartment and constantly finds something. I think every mother will understand me. We always enjoy the achievements and new skills of our children. I still remember as if it was yesterday, as she went the first time. Now I will tell you how it was at my Sabrinka, but first I will mention the rules.
Average standards

I am a curious and responsible mother, therefore, preparing for the birth of my daughter, I shoveled a lot of information on the Internet and read several books on the development of children under one year old.
On average, babies start walking at about 11-12 months. A norm is the period, according to various sources, from 9 to 15 months.
Therefore, if your beloved treasure in the year has not yet gone – no need to panic. And, in no way, it is impossible to put pressure on a child, by this he can be frightened and repel any desire to get up on legs.
In addition, after reading the opinion of orthopedists, I came to the conclusion that walkers are unnecessary things. They can affect the incorrect formation of the foot and hip joints. A child must learn to walk when it is ready for it.
Your child can only be stimulated to walk, for example, with the help of outdoor games, they perfectly stimulate the baby to move.
Sabrinkin successes

At first, our Sabrina began to rise wherever she found support. It started at about 9 months. She groaned so funny, and then, standing up, she proudly watched around. Her favorite places were our sofa and chair near the computer. I was still laughing at my husband, that my daughter is showing everyone where dad spends more time.
Then, at the beginning of 10 months, she began to move in short rushes. That we taught her. My husband sat on one side of the rug, and I on the other. And Sabrina ran to us one by one, spreading her arms and constantly falling to the side.
A little later, when she became bolder, and the muscles apparently got stronger, she began to run across from corner to corner on her own. From one support to another.
At 10.5 months, Sabrina had already boldly moved around the room, and even began to reach the kitchen. So what exactly is that from this age I am counting.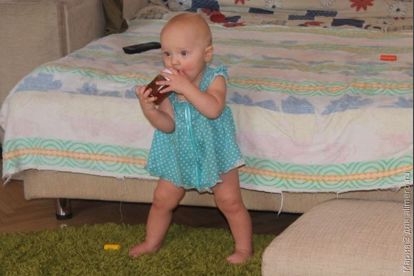 By the way, my mother says that I, too, went at 10.5 months, but my husband, according to her mother-in-law, was lazy, started walking about a year and two.
I am generally in favor of the fact that each child is individual and try to adjust it to some norms (weight, developmental norms) is not fanatically necessary. The main thing is to have a baby happy and happy. And what time it will go, at 9 months or a year and a half, it does not matter.