Somehow together with a pack of diapers we were presented with a pack of wet wipes for the hygiene of babies. Before that, I always washed my son's ass under running water. But with napkins, I realized that it was not necessary to do this all the time. However, napkins napkins strife!
Before I chose favorites, I used several different types of napkins. Among them were Pampers and Goon. But for myself, I singled out Merries and Johnson'sBaby. You may have other preferences – I will be glad to hear them. For my son, these two brands came up and I will explain why.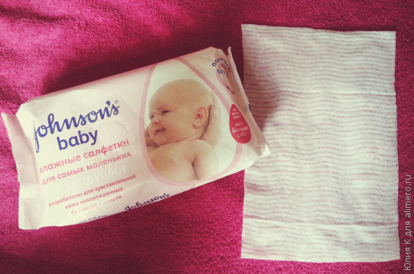 1. Price. Very acceptable – up to 100 rubles.
2. The amount. 64 pieces per pack.
3. Composition. On the packaging it is written that the impregnating composition is 97% pure water. But after all, everyone has different concepts about cleanliness. And how they achieved it is also incomprehensible. Nevertheless, these wipes can wipe even the eyes. I do not abuse it, trying to wash the child with boiled water. But in nature, they once saved me. But still there is something in them, after which the baby's skin becomes sticky.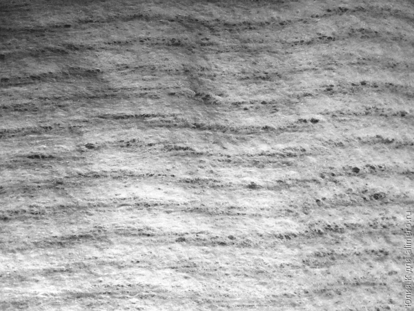 4. Fragrance. The smell is still there. Let him be neutral, but, sometimes, annoying.
5. Material. I was looking for inscriptions on the pack, but I could not find what the napkin was made of. I can say one thing – it stretches.
1. Price. Above the average. The highest cost I saw was 159 rubles.
2. The number of 54 pieces per pack.
3. Composition. Better than in the photo, I guess I will not say. The only skin is almost non-sticky.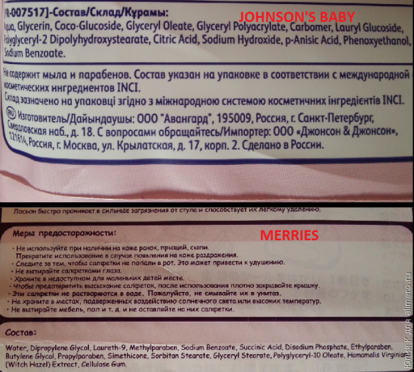 4. Fragrance. There is a slight smell, but it is almost not felt.
5. Material. Here, too, is not clear. In Japanese, I am not strong, but in Russian there is not a single word about the composition of the material. The package only draws soft fluffy, which is usually used by manufacturers to show that the product is cotton. At least, the napkin practically does not stretch.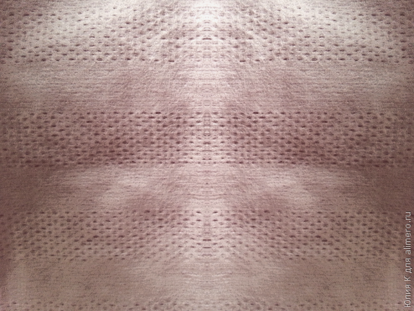 What did you like and what did not
Actually, I would only use Merries. Despite the fact that the number of them in the package is slightly less, for hygiene, I usually only have one napkin. At Johnson's Baby, I often have to use two. I can wipe all day with the same napkins only at Merries. If you constantly use Johnson's Baby in a child begins to turn pink skin.
The Merries packaging says: You no longer have to wipe the same place several times and I agree with that. Easy and effortless wipe removes dirt from the first time. Johnson's Baby does not always remove immediately. Sometimes it is required to wipe in addition.
Wet wipes for baby hygiene are a good and necessary invention, but they should not be completely replaced with conventional baths and washing.