Almost everything around us has color, and the knowledge of this important characteristic greatly simplifies the ability of children to navigate in space. After all, when you know and can give objects a name, it becomes much easier.
It is believed that at about 2.5 years old children are fairly free to get their bearings in basic colors, therefore, they should be started earlier. Today I would like to share with you ideas for simply teaching your child flowers.
Each mother explains to the child the names and purpose of the surrounding objects. I made it a habit to accompany each name with color characteristics. For example, instead of saying it is a cup, they drink it, you should say it is a red cup, they drink it.
I have repeatedly noticed that with the advent of my daughter, my speech has changed. I do not mean the presence in the lexicon of petting and diminutive words, I do not like them. But I did not notice an increase in the number of adjectives. The constant sounding of the actions taking place and the description of the surrounding space somehow became a habit by itself.
We constantly used cards with flowers, I bought a special set of 30 pieces, in which one side of the card had a certain color, and on the back side, its name was written in three languages ​​(Russian, English and Ukrainian).
Shades are best left for later, although, I remember, my daughter loved to correct those around her that her dress was not green, but pistachio, and the curtains in the room were not brown, but coffee-colored.
So, we had a lot of card games. The simplest is to show a card of a certain color. Sometimes I made a variety of process – I hid a few cards in the room and asked my daughter to find a specific color.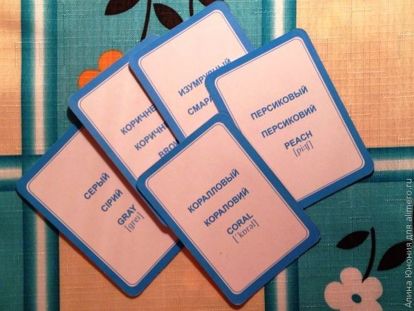 Another popular game – holding in your hand a card, for example, green, should be found in the apartment as much as possible (or a certain number) of objects of a similar color. By the way, this game also develops the score.
Daughters liked to play with the same items, which have different colors. For example, we had sets of colored balls, dice, animals. I gave her assignments to sort the objects by color, and for 10-15 minutes the child was thus fascinated. And my friend asked her daughter to sort pasta and apples by color.
Here again, it is important to describe in words the image, reminding the child of color – the sun is yellow, the grass is green, the sky is blue. Along the way, I often casually asked my daughter to help me, for example, asking me if I could please give me a red felt-tip pen or did you not see the blue pencil ?.
Classes can be continued on the street, so, during walks, we often painted with multi-colored crayons, studying not only colors, but also letters with numbers.
Many believe that it is not necessary to focus on such an early learning of flowers, anyway, the child learns with age. However, everything is not as it seems at first glance. After all, any learning develops in the child the ability to think, memory, attention and logic.
And what ways to study the colors you know and use?