Summer (even Siberian!) Gives us a lot of beautiful and ripe vegetables, fruits and berries. They are extremely beneficial for a growing body. Every mom knows this. But still vegetables, fruits and berries are excellent material for children's games. And most importantly – environmentally friendly and free. Especially if they are grown in their own country house.
Today I want to tell you which games with vegetables, fruits and berries we are playing with my daughter. Conventionally, I divided the games into 2 groups: at home and in the country.

Home games
We have the most popular game at home – it's Cooking dinner. When I start cooking dinner, I wash and clean the vegetables and fruits for my daughter too. And I suggest she cook soup or compote. Well, or make a salad. For soup and compote, I give the pan and ladle, and for salad – a cutting board, a plate and a knife. Knife, of course, children.
My daughter puts on her apron, sits down at the children's table and begins, sniffing hard, to help her mother. She can throw the whole vegetables and fruits into the pan, or she can cut them into several pieces. Yes, I almost forgot: next to the table, we are building a stove out of ikeev boxes from under toys.
The logical continuation of this game is the game Feed the toy / mom / dad – in general, who will fall under the arm. We put a tablecloth on the children's table, lay out the dishes, napkins and even put a flower in the vase. In other words, the table setting takes place according to all the rules of etiquette. We arrange the chairs and sit on them Ksyushin friends and feed them until they get bored.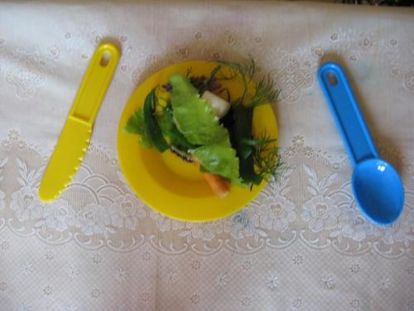 The next game is called Dolly. I wash the vegetables, but I do not clean them. And my daughter with my help draws on them with a felt-tip pen faces – eyes, nose, mouth. And then we come up with a name together and start playing: for example, build a small house for cubes of Irinki or help Pea Antoshka to get over the groove and jump right into the pot with the soup. Sometimes the daughter begins to paint vegetables and fruits with felt-tip pens.

Games in the country
This year, our grandmother singled out a small garden where the daughter planted onions, radishes and various greens. Every weekend, the daughter first of all runs to check Ksyushina a bed: watching the shoots, flying, watering out of the heel, and then harvesting.
We also have a wonderful dog-shaped sandbox in our country house. Docha tears off vegetables – cucumbers, carrots, beets – and runs into the sandbox to build houses and tunnels for them. Another option: I bury a cucumber in the sand, and my daughter, armed with a spatula and rake, then looks for him.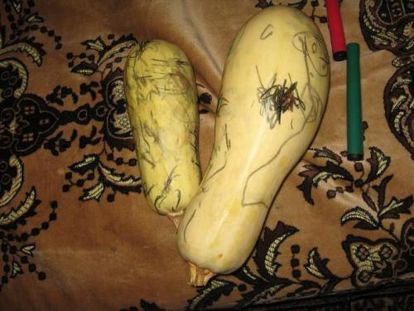 And, of course, the daughter is the most important grandmother's assistant. If our grandmother goes to collect berries, then the daughter grabs her little bucket and – behind her. If I go to weed the beds, then my daughter will surely join me and tear out grass too.
Instead of conclusion
In my opinion, games with vegetables, fruits and berries are doubly useful: I can calmly cook dinner, do something around the house or help in the garden, and my daughter, in turn, learns to help her mother and at the same time develops fine motor skills – trains little fingers.