All mothers want their baby to grow up healthy. If we talk about vitamins for infants, then it is difficult to decide whether the child should be given any drugs or not. Especially when it comes to those children who were born in the fall or winter. I once was very worried about my daughter, because She was born in November and just got into the season of vitamin deficiencies.
Most often, children at this age are prescribed vitamin D. But each doctor chooses his own dose. Judging by what I hear from my friends, sometimes pediatricians are advised to give babies up to 6-8 drops of the drug daily and this is without any research. Yes, the lack of this vitamin can adversely affect the health of the baby, but overdose is just as dangerous.
Our pediatrician prescribed 2 drops of akvadetrima to the daughter daily, this is considered to be a prophylactic dose and, in general, I agree with our doctor. Just leave the child in the winter, when you walk through time, without this vitamin did not want to, and it was scary.
Why vitamins are prescribed
Vitamin preparations should not be considered something harmless, especially when it comes to infants. You should not buy them just in case or because a neighbor gives them to your child. Vitamin complexes should appoint a doctor, and he, in turn, is guided by the following factors:
– geographical location of the settlement
– history of pregnancy
– history of development and diseases of the child
– family meals
– living conditions of infants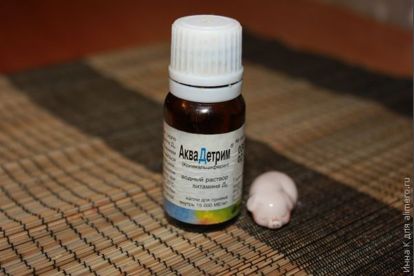 If an adult doesn't have enough substance for us, it will affect our health. And if the baby does not have enough vitamins, it can lead to development problems. Therefore, it is so important that the main ones get into the child's body:
– C – protects the body from adverse environmental factors
– D – necessary for the growth and regulation of calcium and magnesium
– A – important for the development of vision, lungs and digestive tract
– B1 – supports mental activity
– B2 – is involved in metabolism, is important for growth and for hair, skin and nails
– B6 – necessary for the development of the nervous system
– B9 – warns of anemia
– B12 – participates in blood formation
– K – ensures the smooth operation of the circulatory system
– E – normalizes the nervous, circulatory and muscular system
– H – necessary for skin
Where do you get them
Personally, until the year we took only vitamin D. I read a lot about the fact that breast milk contains all the vitamins and minerals necessary for the baby. Therefore, up to 6 months, the task of the mother to eat fully.
I also took an extra vitamin complex for nursing, because I did not want to be left without teeth by the end of the feeding period. And starting from 6 months, we began to introduce a supplement to our daughter. It was just summer and there was no lack of natural and healthy food.
As for the artificialities, modern milk formula contains everything that is necessary for the normal growth and development of the baby. And here you can not worry about the fact that the child will miss something. Enough to read the composition of the product.
Did you give vitamins to your babies?