I already wrote about useless purchases, and today I want to talk about useful purchases and gifts that have made life easier for me and my daughter.
Previously, I had no idea about the existence of a chaise lounge for babies. However, it was included in the kit along with the bath and, as it turned out, not at all in vain. Until my daughter began to confidently hold her head, it was very convenient for me to place her on a coaster, which was attached by a suction cup to the bottom of the bath.
Later, when the daughter grew in size and became more active, the chaise longue helped her more or less fix it in one place and avoid slipping out of my hands.
If not for him, my back and arms would have left me without saying goodbye. I am still grateful to my friend, who advised me to purchase this miracle ball. Up to the year the daughter did not fall asleep in any other way except by way of rocking on her arms. Because her weight increased, each time I felt it was getting harder and harder.
In turn, I have repeatedly advised this useful acquisition to familiar newly-made mothers, for which I received many thanks.
Air humidifier
We have the most common model with cold steam (which, unfortunately, does not allow the use of essential oils) by Chicco (costs about 2000r). During the night about 3-4 liters of water are converted into steam, which is impossible to achieve by hanging wet towels in the room.
The device stands right next to the daughter's bed, and even if by evening she has a little stuffy nose, then by morning everything usually goes away.
Of course, I would like a more sophisticated model – with air washing, ionization and other useful functions, but such a device takes a lot more space, which is important for me.
Though her daughter is almost 4 years old, she still plays it periodically. We bought it before her first birthday. On the one hand, there is a piano table and small insect figures with sound effects, and on the other, a mini-version of the designer.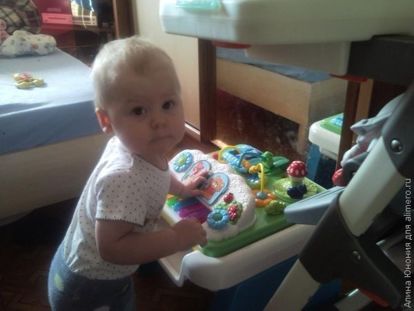 The piano has several modes – from the tutorial (the keys that you need to press, light up in turn) to various melodies.
Again, bought for a year. Variants of models – zebra, green deer, pink donkey. Despite the obvious Chinese origin and ridiculous coloring, our steed is still popular with her daughter and her friends who come to visit.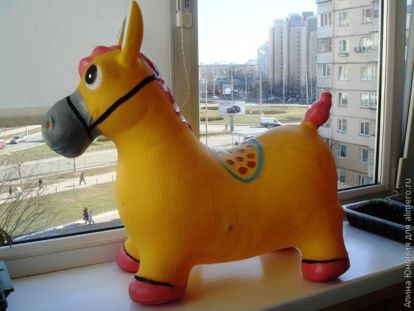 Minus – takes a lot of space, plus – the child is physically developing and feels like the owner of the horse;)
Almost all the children in our company have toy kitchens that they play well with, starting from the age of two. In addition to tableware, you can use it to play dummy products (games with food, I do not welcome).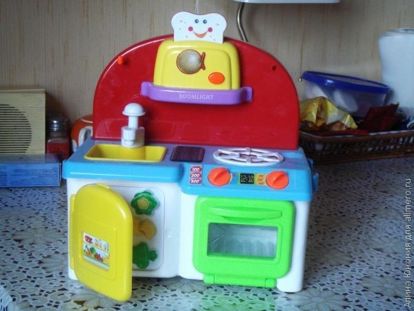 You can play both at home and on the street. For the street, we have a cooker (costs about $ 100) and several sets of plastic dishes – pots, spoons, pans, cups. As practice shows, even boys play cooking with pleasure.
I would like to take this engineering engineering miracle into a separate paragraph, because this is one of the most useful devices for me. If it were not for him, I would have rubbed the products on a terry, and would I chop soups with the help of a potato masher (or what is this thing called, which mash the mashed potatoes?).
Fruits that can be cut
We were given this wonderful set, otherwise, I would have bought a cheaper option, and not ELC, which costs about 1200r.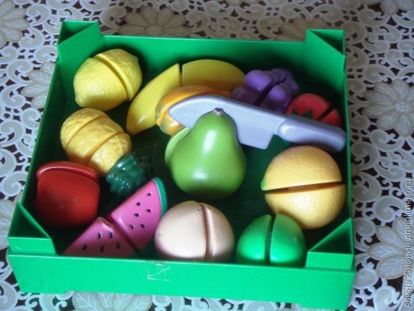 At first, her daughter liked to just cut and join pieces of fruit, later she made salad from pieces, and now she plays with them in the store. It looks like this: daughter asks What would you like to buy ?, I (or doll) answer Me, please, half a banana, she cuts off, takes money, gives change and packs the purchase into a package.
The greatest satisfaction I received from the purchase of Ecco's winter thermal boots. Daughter has successfully carried 3 pairs and never her legs are not frozen and not soaked. Shoes absolutely do not lose their appearance, and boots after my daughter successfully wear out her younger sister, and this is not the limit.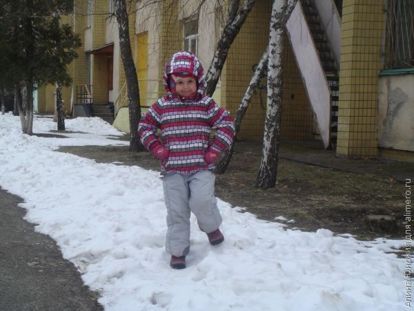 Another successful acquisition – a hat-hat (from a daughter Reima). With it there is no need to wear a scarf, the neck is always closed and warmed, and special inserts in the area of ​​the ears increase protection from cold and wind. Yes, it is more expensive than ordinary hats (about 1600r), but, first, the daughter of one hat is enough for two winters, and secondly, its quality is worth it.
Suspenders and belt – with their help, jeans are always fixed and do not slip, thus exposing the lower back.
Bodiki (analogue of female kombidress) – I will tell you in secret, the daughter wore this underwear for up to 3 years, moreover, models of this size had to be ordered from the USA, because we have the maximum size for sale – for 2 years. Apparently, this is my fad about the bare back – because I am from October to May, I always wear combidress under any clothes. The only negative – uncomfortable going to the toilet.
findings


Of course, disposable diapers and a washing machine occupy the first place in the rating of necessity, this is obvious.

4 years after the birth of my daughter, I realized that there was no point in buying so many unnecessary toys. Regarding technology, I didn't have such fanaticism, because I don't like extra things, especially those that take up space in the kitchen. Therefore, I did quite normally without a double boiler, a slow cooker, and other bottle warmers.
And which acquisitions have been helpful to you?