Most of the couples with the approach of summer think about the rest. We also did not become an exception. Having already had a tradition of going to the sea every year for many years, we did not deny ourselves this pleasure even with a 6-month miracle on our hands.
This is where the fun began. Starting from grandmothers, grandfathers and ending with pediatricians, they began to accuse us of the irresponsibility of the decision made. Citing his acquaintances as examples, for whom the kids did not tolerate the road very well, were etched or burned in the sun.
However, I was internally calm and absolutely confident that everything will be fine. It was just necessary to think through every detail. Since then the baby was fully breastfed, I couldn't worry about food.
The choice of transport


After consulting and re-reading a bunch of literature, we learned that babies up to a year can best travel by train, plane or car, and therefore we decided to go to Crimea by car.
I prepared myself for a grueling and hard road. But to my pleasant surprise, my daughter almost all the way cute snuffled in the car seat. Time flew by.
Kid on the beach


And finally, our daughter first saw the sea. This delight could not be described in words. She smiled and squealed ridiculously, looking at the waves, drove with interest on the sand with a pen and looked curiously at the pool that we bought for her.
My daughter behaved remarkably and could lie quietly for an hour, looking at the raging sea. Thanks to the new impressions and emotions, as well as to the sea air, the baby has significantly improved day and night sleep.
In the afternoon, she could sleep under an umbrella for about 3 hours, and this time my husband and I had enough to swim and sunbathe.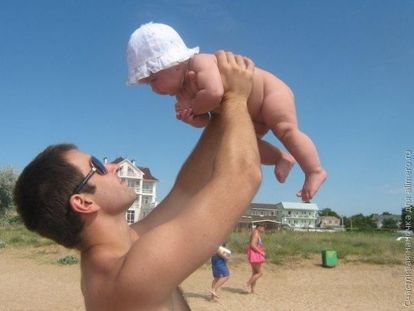 Two weeks of rest flew like one day. Happy, rested and suntanned, we returned home, saying that from now on we would rest only three of us.