It is well known that the development of fine motor skills has a beneficial effect on the development of the baby's speech. Speech becomes more coherent and clear. Some experts even claim that children who prefer to play with small objects start talking earlier.
True, or all the same, the individual characteristics of each individual child take place, I do not presume to assert. I propose to consider the toys that were in the course of my daughter.
I want to draw your attention to the fact that it is always necessary to personally check the safety of your child's toys. Check if the paint doesn't slip, if small parts and battery niche are firmly fixed. In high-quality toys, the battery compartment cover is fixed with a screwdriver, not a latch.
This may include mother's finished beads and specially made by you, based on the needs and preferences of your child.
When my daughter was six months old, I bought hand-made beads of various sizes in the store for hand-made, strung them on a strong cord and put strollers on the bumper. There was no limit to delight, for several months this toy was a daughter favorite.
The phrase about hard childhood and wooden toys is no longer so relevant, because these toys are now considered environmentally friendly and fashionable. Wooden labyrinths are a great success for children – a small ball must be led to the target with a wire bent in different directions through all sorts of obstacles.
From this series we had a slice of watermelon with a worm on a string, which had to be pushed into the hole, and a slipper to develop the skills of pinching shoes.
I highly recommend wooden puzzles – they develop not only fine motor skills (thanks to the small hands on them), but also logical thinking.
Games with products
Nowadays, games using beans, peas, vermicelli, etc. are very popular. For me personally, such games are unacceptable, I do not allow my daughter to play with food. However, this does not exclude their possible usefulness 🙂
You can give the child the task to sort the beans by color – red and white, pasta – by shape; divided into a certain number of piles with a certain number of pieces in each, at the same time developing mathematical abilities.
I repeat, be careful, children prefer to taste items. And the unsuccessful ingestion of a small pea is fraught with suffocation. Also, watch out and stop gusts of shoving game objects in your ears, nose, this is very dangerous.
You can start with the sets, which include large parts, then move on to smaller ones. Now there are many analogues of expensive Lego sets, we have large bags with them in toy stores.
Help your kid build towers, houses, abstract shapes. In parallel, you can learn colors, invent role-playing games, fantasize.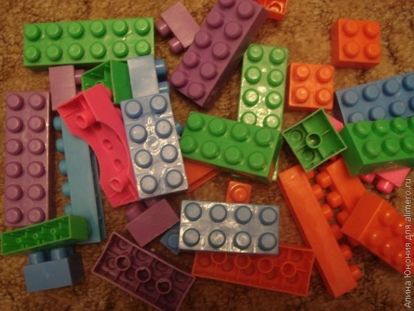 Let the games for the development of fine motor skills bring newness to your pastime. In the future, this will also affect the ability to hold a pencil, a spoon; facilitate the acquisition of skills sewing, cutting, needlework. Health and good mood to you and your children!