When I gave birth to my son, in the hospital we were given bags with gifts and advertising from various companies. There were children's hygiene products. In one of them was a sampler – foam shampoo from top to toe from the company Johnsons Baby.
I very carefully choose various hygiene products for my son, since he has a predisposition to allergies. According to the description I was very pleased that this tool is for the whole body and for the hairs.
What does the manufacturer write
It can be used from the first bathing and, unlike baby soap, does not dry the skin. This tool is hypoallergenic and designed specifically for the skin of newborns.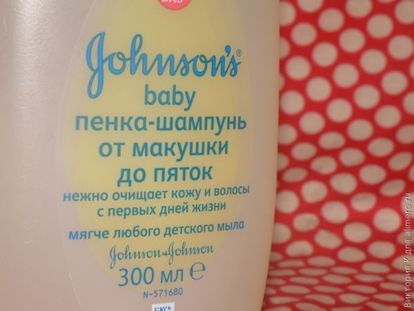 The manufacturer has taken care and on the bottle there are two ways to apply: drop a couple of drops into the water and lather it, wash the baby with this foam or put a couple of drops on the palm (sponge) and wash it so.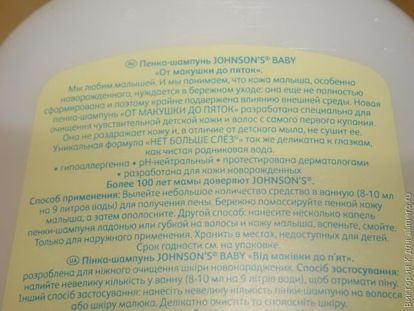 Impression of use
We used this probe for more than half a year and it was pleasantly impressed. It foams very well and you just need a couple of drops in order to wash your son completely.
The consistency is average, you do not need to wait for a long time until the shampoo itself starts to flow from the bottle, but it is not liquid, which immediately follows from the palm of your hand. I really like the smell, there are no perfumes and fragrances, it doesn't eat into the nose and leaves behind a light fresh smell in the bathroom.
When this shampoo foam ended, I, of course, wanted to try something new. We tried two remedies, but still came back to this. The price is not high, I bought for 84 rubles a bottle with a capacity of 300 ml, I think it will be enough for us for two years for sure.
If we sum up the results, then I don't see a better hygiene product for bathing my son, he has no flaws. The only thing that could be used to change the manufacturer is to make the bottle more interesting.