My neighbors are constantly beating their 4-year-old son. He ran across the road – a blow to the pope, Naham papa – cuff, did not come up on the first call – kick.
In the family, except for father Dmitry and mother Elena, two children live. Stas 4 years and Vadim 1 year. Both boys have characters, but if the younger one isn't particularly punished for anything, then the older child gets regularly.
Fun family walks
Once we went to the park with two families. Never before for so long, in the field, I have not watched this little family. A four-year-old kid was asking for his behavior, and his parents were satisfying their needs for discharging negativity. With enviable regularity it was possible to observe the kid jumps up from the blows, taking a few centimeters off the ground.
Quite often I go out for a walk with my daughter with Elena. Like moms with wheelchairs, we know firsthand how difficult it is to visit a bank or a couple with a baby. Therefore, one of us is standing on the street with wheelchairs, while the other is deciding his questions.
Frankly, on walks to weigh the head on the head Stasiku dream and I. This is a child, what is called – with an awl in one place. He constantly strives to run out on the roadway, run into a street mongrel, or pick up a kinder in the window, standing in line at the store. He does not listen to mom – he bangs his head at all instructive remarks, that he understood, but immediately he goes and does it again.
Or maybe it's parents?
The parents of the boys are still young, they are 23 years old, but they do not accept any recommendations from outsiders. Once I found an article on the Internet on how to communicate with naughty children and dropped the link to Elena. A couple of days later I asked her if she read the article? It turned out not. She had no time.
The fact that Helen has time, I know firsthand. We are neighbors and visit each other almost every day for various reasons. I constantly see that Elena watches her favorite TV shows for days., while the children are crawling in the heap of their dirty, greasy toys.
At first I wrote off this attitude towards children when their parents were young. We have discussed with my husband more than once that it is not right to give birth without gaining one's mind. But, as practice shows, neither parent seeks to gain mind.
Sanctions and their enforcement
Recently, we celebrated something together at our neighbors' home. Stasik was pushing a year-old brother and rude to his parents. Dmitry decided to punish the child and took the recently purchased machine from him, commenting on this so that it will be possible to play with the machine only tomorrow.
A few minutes later the baby found the car hidden by his dad and started playing with him again in front of us. Parents pretended that nothing happened. Here I could not resist. She asked them if they saw what was happening and did they realize that they looked like balaboles in the eyes of their child, who were not even able to answer for their words? They got crushed, agreed, but the machine was left to the baby.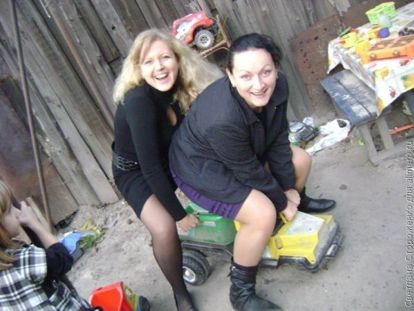 In private conversations on a walk, Elena dreamily tells me about how she presents future friendly gatherings with children in the future. I would not be surprised if all that they receive from matured children is the same indifference, flavored with kicks and cuffs.
I think the baby needs frames, but they must be installed patiently and gently. And not to be silent until the last drop and then not to beat the child who is essentially not guilty of anything.
As for me, in our schools there is a lack of a subject where the younger generation would be taught that if you learned to make children, then be kind – learn and educate them.
In my opinion, raising a baby is a big job. And it is much harder and more responsible than any other.
And how do you feel about the physical punishment of the child?