I am sure that every mom faced temperature increase in her baby. I did not even know that at first the temperature of 37.4 is the norm.
Today I have become so sensitive that I can determine with my own hand whether my daughter has temperature or not. But with a thermometer, of course, I know this for sure.
Unfortunately, temperature measurement for us was not the most favorite ritual. But it turned out that the thermometer just does not suit us. But first things first.
Our search for a thermometer
I remember, in the first weeks I was covered – my daughter is hot. There were only mercury thermometers at home, which I was absolutely afraid to use – after all, my daughter constantly fidgets. And my husband went to the pharmacy in the morning for a baby thermometer.
There he was offered an electronic thermometer, which is safe to use compared to mercury. But, of course, it costs more. Then I agreed on everything and my husband bought it. Thank God, then the temperature we did not have.
But a couple of months after going to the pool, we had a cold thoroughly. And here we could not avoid temperature. The electronic thermometer failed us – I really felt that my daughter was just burning, and he insistently showed us 36.6. Everything would be funny if it were not so sad.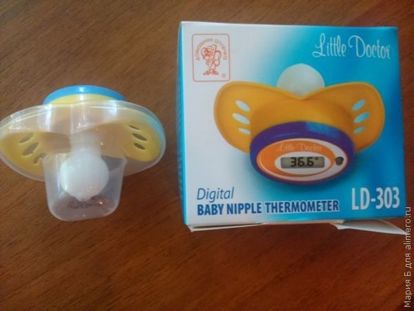 At night, I decided to use the hated mercury thermometer, because it was necessary to understand – to give or not to give antipyretic. Well, here is the most important accuracy.
Of course, I tormented myself with this thermometer. My daughter always wanted to run away somewhere, so five minutes seemed like an eternity to me. But the result was, and we went to drink Nurofen.
But the mercury thermometer, despite its accuracy, is very dangerous! In addition, my daughter did not want to shove it under her arm. Because of this, more than once we did not get reliable results. The screams of the child, the constant twisting, my fear – well, I am sick of it all. And then in search of a thermometer I went myself.
I really liked the version of the thermometer, which just for a second should be attached to the forehead – and, the result is ready. But I was greedy then, because it was very expensive.
Like, while relaxing in the country, I had to go to the village pharmacy for Kalgel for our beloved teeth. I honestly did not expect to find him there, but as a result I was pleasantly surprised. There I saw my dream! Thermometer in mind just a dummy! For us, nipple lovers, this would be the perfect solution.
Honestly, I didn't even meet such an option in the city. And at the price it turned out to be much cheaper than even the simplest electronic thermometer – only about 250 rubles. Of course, I was a little doubtful about the quality, but I was convinced that the whole village bought and was happy with it. That's so advanced people! I, of course, bought it!
I must say that his daughter took it with a bang! And the results of measurements also turned out to be accurate – I didn't check it for myself! Nowadays, it is generally easier for us to measure temperature. I inserted a thermometer dummy – and in five minutes the cherished wee-wee. Even an adult can use it – no need to sit and free hands!
Mom, and what thermometer do you use?