It has long been known that kids up to three years old still cannot play together. But the fact that they have a need to communicate with each other – I learned this not so long ago. Until his son was a year old, all winter and two months of spring, he only slept in a stroller for a walk. With the onset of heat, when the son grew older, we began to go for a walk not only to sleep.
Getting used to society
On walks, we met with the same kids. The children watched each other with interest, as if learning something incomprehensible to themselves. At one of the first meetings, my son looked at the unfamiliar girl with interest, then came up and touched her pompons on the cap.
In the summer months, several moms with babies met on the playground or in the park, and this is our improvised kindergarten worked all summer. Children played with toys that were common for this time, and their parents helped them not to quarrel and were busy with different things. In the fall, someone went to kindergarten, someone left, the contingent changed a little, but still our children are walking in company.
If at first my son did not care where and with whom he would walk, then gradually he began to show interest in the guys – the same kids. Of course, children of this age are more interested in other people's toys, but they also learn to communicate. They learn to share toys, treat each other cookies, the younger ones look at the older ones and adopt something for themselves. True, this new is not always positive, but in this way children learn to distinguish the good from the bad by seeing the reaction of adults.
What to play?
Despite the fact that children up to three years old do not yet know how to play together, it is possible to organize joint games for them with the help of adults. For example, my son and I once taught the whole company to throw pebbles into a puddle. It was in the autumn, when it was no longer so fun and interesting, and not so many lessons as in the summer, and then, you see, entertainment.
In the summer we played ball, catch up. And the constant delight of our juvenile company caused the blowing of bubbles. The children, with a friendly crowd with joyful shouts, tried to catch the shiny, mysteriously disappearing balls.
If at once the two of them wanted to ride a bike or a typewriter, they would find such a solution: one is sitting, the other is rolling. And the other children like to roll no less.
Now, children from afar recognize each other, rejoice in the appearance of someone from their company and feel sad when someone leaves before the others. They can already do something together, for example, a sledge can be rolled together, they can laugh at each other. Of course, all this is supervised and with the help of parents, otherwise it will not do without tears and bumps.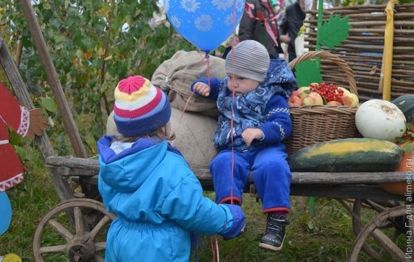 Now I know that children up to three years simply do not know how to organize joint games, but they need and important communication for common development. I hope that this will help them to get used to the kindergarten team faster, because they already have experience with children and unfamiliar adults.