Scientists have long proved that music has a beneficial effect on the development of children. Nowadays, there are specialized schools for early development, in which emphasis is placed on the musical development of children. But even if your child is not a professional musician, it is necessary to begin his acquaintance with music as early as possible, preferably even during intrauterine development.
Modern studies have shown that babies remember the music they heard before birth. And surprisingly, even a year after the birth, children will recognize this music!
If the child does not like the music he hears, then he will react even in the womb, especially in the last month of pregnancy. Do not be surprised that your child is soothed by classical music if you listened to it during pregnancy. Your baby remembers it and prefers this particular music to any other.
When to start the musical education of the child? Ideal – during pregnancy. Anyway, better late than never! What kind of music to listen to the child? Calm, harmonic. It can be classical music, special music for children (there are entire collections of such music on the Internet), sounds of wildlife (birds singing, sounds of the ocean, a stream, foliage), or suitable pop music.
After the birth of the baby, you can include the same melodies. The baby will recognize them. You can even conduct an experiment: include toddler familiar and unfamiliar melodies. His reaction to the melodies will differ significantly. Gradually introduce new melodies into the baby's diet. By 6-7 months, the child will not only listen to music, but move in rhythm!
Nowadays, among the toys you can find a lot of music. In the choice of musical toys, be careful. Check the sound quality still in the store. If the sounds cut the ear and annoy you, then they will have the same effect in the case of your baby.
Newborn babies often get scared by the sounds that toys give out. Some children even up to 8-10 months cry if they include singing toys. It requires parental wisdom to find that middle of the middle between music too much and music not enough.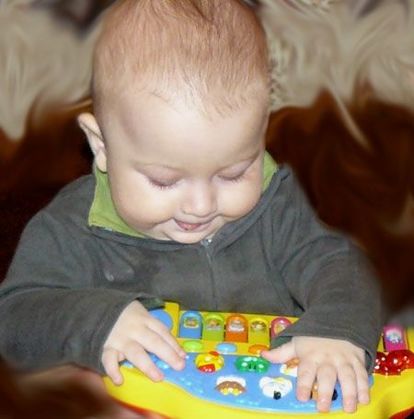 The good old method of musical education, which our grandmothers gave us – lullabies. When mom sings a song to a child – this is one of the most memorable moments of childhood! Listening to mother's or father's tunes, the child not only absorbs parental love, but also develops comprehensively.
And do not worry about your vocal or musical ear. All that is important for a child is for mom to sing! Sometimes young mothers are afraid that due to improper singing they will spoil the baby's ear for music! It is a myth! On the contrary, singing and listening to music develops the baby. Let the kid hum a song with time, but he hum! If he was able to repeat the wrong melody, be sure that he will repeat the correct one!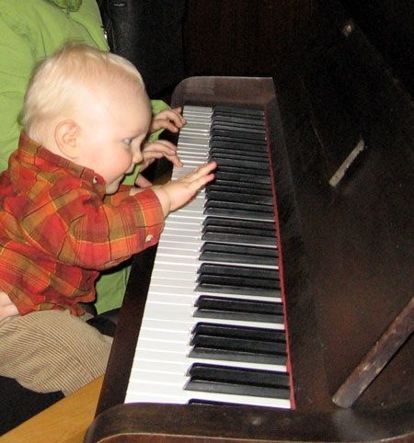 Music – help in education
If a child is quickly excitable, restless, nervous, then calm slow music will calm him. Works of such classics as Mozart, Vivaldi, Tchaikovsky, Schubert will do. If you want the baby to play well after sleep, then turn on the rhythmic music.
Stimulating music is useful for babies who are passive while playing and feeding. Even if your child is developing quite normally, the music will also benefit him.
Note!
Heavy music inhibits intrauterine development of children. If you cannot live without rock or hard-rock music, then give it up during pregnancy and after the birth of the baby, listen only through headphones.
Never let the kids listen to music through headphones if you do not want to injure his hearing and even the nervous system.
Live singing and chatting is always better than recording.
Children's songs for finger games help the development of speech and thinking in the baby.
Interesting observation: my baby by the age of two began to distinguish between his favorite cartoons by music and songs.