The first steps of the child are always expected by the parents with particular excitement. It is like the appearance of the first tooth or the first spoken word. The minute when your baby lets go of the arms from the support and overcomes the way from the sofa to your embrace will long be remembered to you as a very touching and important moment in life.
When the baby starts walking
It is considered normal if the child began to walk independently between 9 and 15 months. But of course, we all want the baby to be able to walk by himself at least a couple of steps by the year. With my older child, everything turned out well; my daughter went 11 months. But the younger one made her first independent steps only in 1 year and 3 months.
In principle, this was expected. From birth, she had a weak muscle tone. Each massage, our masseuse accompanied by an oxhole: Legs, like cotton. Now I'll probably remember this expression for a long time with a shudder. Our baby crawled at 9 months, learned to get up on her feet only at 10. Naturally, no one expected her to follow her elder sister's example suddenly to run at 11 months, but still I was very concerned about such a delay.
The baby does not start walking unexpectedly. First his muscles are strengthened. He learns to stand, and then tries to stand without support. Then mom and dad take the kid for both hands, then for one. And finally, the child, swaying, overcomes a short distance from mom to dad, here they are unforgettable first steps!
It is very important not to force events. To get up on your feet baby should be ready physically! Do not rush and put on the feet of a child who is not ready for this. Also different are the various jumpers and runners that our grandmothers so much like to offer.
Oh, how many had heard such harmful advice, until my daughter began to move independently. In the end, the comments like: She should be walking already or it's strange why she doesn't walk I started to growl that my child shouldn't owe anything to anyone.
How to help your child learn to walk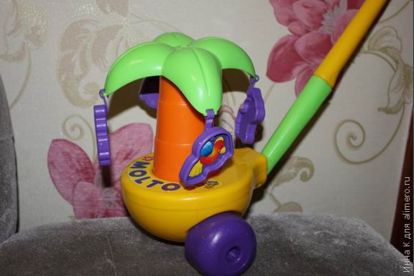 We began our journey to upright walking with a course of massage, which was made to strengthen muscles and with therapeutic exercises. In addition, every minute I tried to drive my daughter by the handles. It was just winter on the street, not much like, but at home we measured our room with steps from corner to corner.
I strongly interested her. For example, we had a musical wheelchair, which I held in front of her and we, holding hands, walked after her. We also sat with the eldest daughter opposite each other and took turns to call the baby so that she would at least take one step.
That's how she finally went. It happened literally in a jiffy. First, she took only a couple of steps, then more and more. My daughter and I crawled farther and farther apart, we were already in different parts of the room, and our little one was running between us!
It is interesting to know, and how did your child take the first step?