I was looking forward to the first trip to the sea with my miracle. His reaction was interesting.

Necessary things at sea
Our first trip took place when our son was a year and 7 months old. This is quite an adult age. But I think my recommendations will be useful for older moms too. So, regardless of the country to which you are going, you must have with you:
1. First aid kit with the most necessary medicines. Zyrtec from allergies, Linex or substyle from disorder, coal, ibufen, eferalgan candles on temperature, iodine, bandage, adhesive tape.
2. Remedies from the sun. There is a huge amount of children's sun creams. They cost quite expensive. But believe me, you can not save on this. Many praise Kiko and Nivea. We chose Ladival cream and are very pleased. Be sure to take panthenol from burns.
3. If the baby is bottle-fed, take your mixture or find out in advance whether there is in it the right baby food. The same goes for feeding.
4. Circle, wings – means for safe swimming.
5. Toys: shovels, rake, pasochka – they will be useful to you.
Of course, a lot depends on where you are going. But items from this list must be with you.

First swim in the sea
When we arrived at sea, the joy of the child knew no bounds. He immediately dragged me to bathe, but, surprisingly, was neat and the first did not climb into the water. He especially liked the waves – he laughed deeply and got a lot of pleasure.
I think you should not be reminded, but still I will say. The best time to stay in the sun is from 6 to 11 in the morning and from 4 to 7 in the evening. In this interval, the sun is the least dangerous. But still, if there is an opportunity, try to stay with your child under an awning or an umbrella. A child must have a cap or hat on his head.
In the heat, try to put the baby in light things, preferably from natural fabrics. No synthetics. Be sure to give him a lot to drink. To avoid dehydration. Do not skip lunchtime sleep. The child must follow his regime – then the rest will bring pleasure not only to the crumbs, but also to his parents. 🙂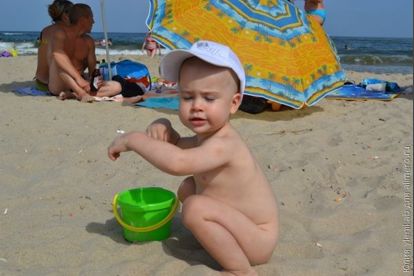 Summer season is around the corner. Have a great rest and bright impressions!
P.S. The first rest is the most memorable, so do not forget to take a camera with you – there will be a lot of pictures. 🙂