Almost 4 years have passed since our daughter was born, however, I still remember the first days of our stay at home.
A few weeks after giving birth, I gradually began to switch to feeding on a schedule – about every 3 hours. And at first she tried to satisfy the need of the baby in her chest for every squeak.
This stimulated lactation and provided her daughter with the feeling that she was not alone in such a huge and new world for her.
My chest was not ready for the torment of a new family member, which was expressed in the form of cracks and damage to the nipples. Many recommend lubricating them with calendula tincture, but, firstly, the alcohol dries the skin, and, secondly, this procedure is quite painful for the damaged area. I was saved by Bepanten – a cream containing panthenol.
I remember now that my milk was leaking during the entire feeding period. That is, for a whole year I wore special absorbent breast liners around the clock.
Baby care
Like many young mothers, I was afraid to harm the baby even during a diaper change. By the way, unknowingly, I was sure that they should be changed after each urination of the baby -)) Only a month later I was enlightened by more experienced friends.
I was afraid to bathe the baby, especially at such a young age the child still does not hold the head, and each new procedure did not delight the daughter.

For the first bath I decided to go 5 days after giving birth. A deck chair for bathing, which was complete with a bath, was very useful. I bathed, contrary to all traditions, in ordinary tap water. Yes, I'm lazy, and I refused to brew a string or boil water.
In accordance with the recommendations of the doctor, I daily treated the umbilical wound. Processed in the best traditions of domestic medicine – brilliant green.
My daughter was born at the end of May, the weather was warm, but I was afraid to go for a walk, although the stroller was bought in advance and was already waiting for its fate.
For the first time we went out for a week or two and a half or two after birth. Just in case for a half-hour walk, for some reason I took a couple of diapers, several sets of changeable clothes and even a mini first-aid kit for first aid in case of anything.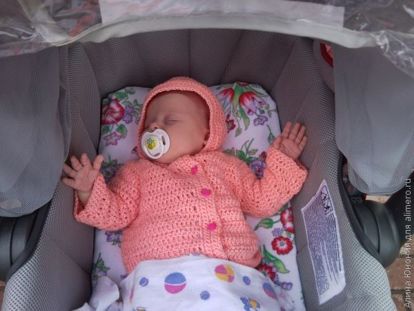 As it turned out later, a diaper, wet wipes and a blanket are enough for a walk close to home.
However, what kind of mode can there be at the first time after birth? My daughter slept when she wanted (for most of the day), in the intervals between sleep she either ate or cried, calming down only on my hands.
Whether hormones, or fatigue, but at first it was better not to touch me – I was so nervous. Everything irritated me – from the deodorant my husband bought (horror, he bought a stick with a smell, which could provoke the baby's failure from the breast!) To the mobile melody.
I constantly wanted to sleep, one day I even fell asleep, with my forehead on the handle of the stroller, sitting on a bench. At first, my daughter often woke up at night, which also did not contribute to my rash.
By the way, unlike many young mothers, the feeling of universal love for her daughter and the realization that I have her and I am a mother did not come to me at once, as often happens. Yes, there was a certain feeling of relief and satisfaction immediately after childbirth, but it was precisely the most aching feeling somewhere in the region of my heart that I felt closer to 6 months.
Of course, now I remember all these moments with a smile, but then, when everything was new for me and for the first time, I was terribly worried for any reason – if the child is fed, is she comfortable, why is she crying, etc.
In any case, this was the next stage that needed to be overcome. And I hope that I overcame it successfully.
And what were your first days after the maternity hospital?