When my daughter was very young, she could suck long breasts – up to an hour. At that time I had absolutely nothing to do, and I read books. Probably, that is why her interest in books showed up very early: already in 3 months my daughter tried to take away my books and leaf through them, of course, in her own way.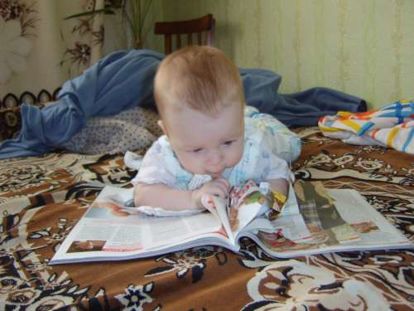 At the same time, my daughter fell in love with watching magazines – color pictures and soft leaves that could be easily rumpled, she was very worried. Therefore, even then I wondered about buying special books for my baby. But, unfortunately, the stores were able to offer me only books with the words C 6 months. I took one of these books. In it were bright and understandable pictures of various objects with shiny inserts. From the same series there was a book with animals with fur-leather inserts that a baby could feel. But, unfortunately, my hands never got to this book (or rather, finances were not allowed, because children's books are still expensive).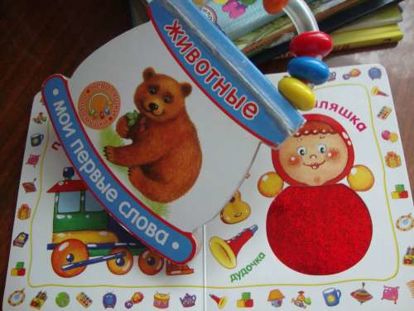 A little later, I bought my daughter a rattle book with animals. And these two books became our favorite for a long time. We could watch them for hours, the daughter looked through, showed them with her finger, and I told them what kind of object or animal it was and what sounds it makes, what it does.
The bathing book has become another important thing in our book world. The heroes of our book were two bunnies – a girl and a boy, with their help we learned simple everyday actions. In the pictures, the hares washed, ate, went to bed. My daughter liked this book so much that she soon dismantled it on pages and was already bathing with separate pages, and not with a whole book.
We have one more book in our arsenal – big-eyed. The eyes there are plastic, as if they were alive, and on different pages they belong to different characters: geese, babus, frog, owl … We didn't need it, it was given late when the daughter already knew all parts of the body by heart. But now my classmate's son began to show his eyes in the pictures with the help of such a book.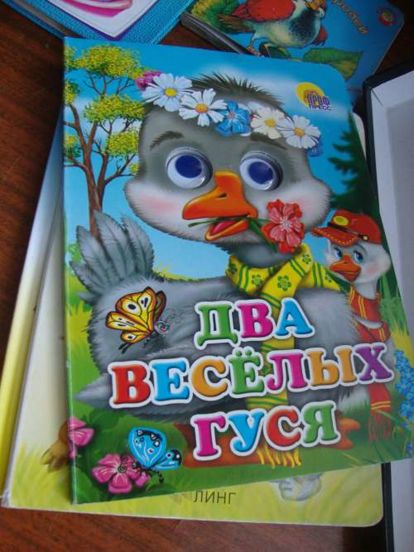 Somewhere after a year, my daughter had already realized that books and magazines could not be torn, and we began to offer her paper versions with poems and rhemes. In parallel, she became interested in adult books, and especially magazines. She loved pulling mother's magazines out of the closet and looking at photos of babies. In addition, in such magazines there were many pictures of familiar things.
And then came the moment when my child became interested in my hobbies. When I sit down to sew, she demands that I give her a stack of embroidery magazines. They, and also photo albums, now occupy the first place in her personal rating of literary preferences.