With children it is important not only to play, talk, exercise, but also develop their fine motor skills. It is known that such exercises contribute to the appearance of the baby's speech, because the receptors on the fingers are associated with the brain department responsible for speech.
For this there are various ways. The most common ordinary finger games that are best carried out under the corresponding rhymes. So, you can massage the fingers of the baby, starting from the very first months. Although I personally encountered this problem: up to the year, the daughter did not allow her to touch her fingers at all. Therefore, this method did not really help us. True, after a year the finger games went off with a bang!
The most popular is the Raven crow and the rhyme about mushrooms. Sometimes the daughter takes the initiative into her own hands and touches her fingers. Since in our case, the finger games did not come up at first, I began to look for other options – I did not want to lose time. Fortunately, there are special toys for the development of fine motor skills. So, I bought a toy, where small wooden figures were placed on thick wires that a child can move.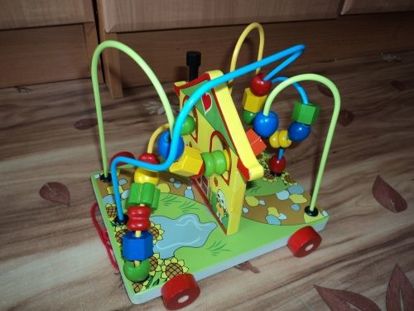 However, it is not necessary to buy toys for this purpose. Material for development can be found in his apartment. For example, you can give your baby small objects of different shapes and textures. It can be pieces of fabric: linen, flannel, silk, etc. Or toys made of plastic, wood. The more small items touches and sorts the baby, the better. This is a very effective way.
Find the necessary items for the child can be in the kitchen. I quite often gave the baby beans, rice, peas, pasta, and she shifted them from one dish to another. But it must be remembered that all actions of a child must be controlled by adults, otherwise he may shove these objects in his mouth, in his ear, nose – children's imagination is not limited.
In addition, I myself made a kind of finger trainer. She took a handkerchief and attached small multicolored buttons to it. It was interesting for the daughter to touch and touch them. And since the buttons were sewn reliably, it was possible not to be afraid that she would tear them off and misuse them.
In any case, it is important that the classes were held with a smile. If a child is dissatisfied with something, then it is better to postpone everything for the time being or choose another method that your child will like.