Nowadays, there are many different toys designed to develop fine motor skills in children. But my son prefers to them the objects surrounding him at home and on the street. And I can only support his interests and allow him to help me with the housework.
About the benefits of the development of children's fingers
Performing all sorts of exercises for the fingers is very important for kids. It is through the development of fine motor skills that the speech center of the brain is improved, which means that the child learns to speak faster. Its coordination, dexterity and accuracy of movements of small handles are improved.
In addition, while studying with my son, I notice that such activity develops his memory and attention. He remembers what to do with objects, what color they are, size. In a little over year, my child is trying to draw with pencils and paints, and I believe that this is directly related to the active development of his fingers.
A few months ago, I noticed a pattern in the behavior of my son. In his corner there is a full basket of toys, including many designers, pyramids, cubes, balls and other interesting objects. But all this does not really interest him.
But the games that fills the tables, drawers and bedside tables of our apartment, he is always happy. Moreover, it refers to this very responsibly. Probably feels like an adult, playing with the usual contents of life.
He tries to repeat with objects the actions that we carry out with my husband. Every new business is not given to him at once, but he shows perseverance, which makes me madly happy. I want to share those exercises that my one year old kid likes more than others.
1. Playing with cereals and pasta in his son are the most important. He with great pleasure goes through them, pours them from the bowl to the bowl. Most often, I mix peas or rice with large horns in a bowl, and the child conjures with this content for a long time.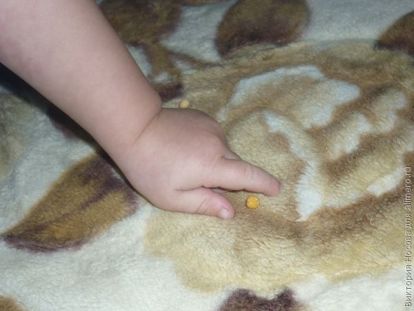 2. Games with buttons and beads are also very exciting. While my son only sorts them into several piles, scatters and collects. But soon I plan to show him how to string them on the line.
3. In one of the trips of the baby to visit his grandmother, he became interested in another occupation – modeling from dough. Then they cooked pies. Since then, this work without his participation does not pass.
4. I would attribute the opening and closing of the cabinet with a key to more complex exercises. But the son likes it. As soon as I allowed him to wield a key, he could insert it into the hole on the first day. And the next – he opened and closed the door for them.
5. Turn on and off the light, he also learned very quickly. Only here all the switches in our apartment are too high for him, so I or my husband have to hold my son in his arms so that he can reach.
6. Opening and closing empty bottles, tubes, bottles also carries the child for a long time. And all the filled containers have to be removed higher, so that the son could not reach them. Otherwise, there is a risk that their contents will be on the floor, on the couch, and possibly on household appliances.
Enumerate all the exercises that we perform can be very long. Any pot, ball, spoon, box, etc. It is of interest to our curious baby.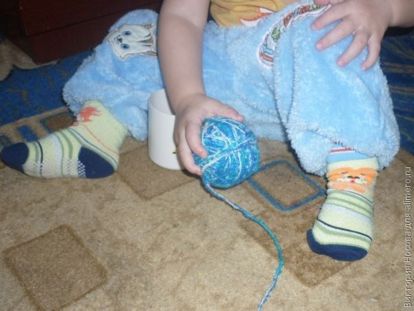 Outdoor activities
The fact that on the street a child can also actively develop fine motor skills, I was convinced in the summer when we were staying with his grandmother in the village. Here are some exercises that he did there.
1. Games with pebbles. In the courtyard were laid paths of gravel, and the son immediately noticed it. What he just did with these stones: throwing from the path, into the water, shifting from place to place, filling them with buckets, glasses and jugs. His fantasies knew no bounds.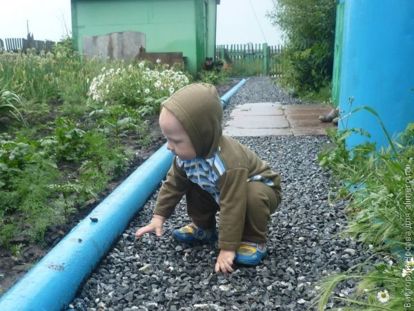 2. Games with colors. A grandmother taught them to her son, who ruthlessly tore her flowers, gave them to him and taught me to give. A few minutes later, the son himself began to pull out his thumb and forefinger in an attempt to disrupt the flower.
3. Berry picking has become another pleasant skill of the baby. After all, it was not only interesting to do it, but also delicious.
You can take the baby anywhere. Moreover, household items help not only to pass the time, but also to develop the child. You just need to show a little imagination and allow it to do crumbs.