Recently, my daughter and I went for a walk to the playground. Everything would be fine if we were not hit by a swing. Moreover, not somewhere, but on the head. And I was there and did not see me. Then I thought about it. Is everything in the playground safe? Can I not worry about the child?
Looking around, I realized that I had not paid attention to the safety of the playground before. Swing like a swing. What's so special about it? Yes, there it was. I noticed so many nuances that I would like to share them. Maybe my observations to someone of you will be useful.
Choosing a playground
First, we divide the site into new and old.
New playgrounds are more thoughtful. There are wooden hulls, soft but durable ropes, comfortable slides. Certificates and standards for these rides are, I looked on the Internet. But again. If the child is allowed to play alone, there is no guarantee that he will not get stuck in the net or will not turn over on the slide.
Yes, and the swing can hurt. But it really depends on mom. Stay close to your children, look after them, help, guide and support your children.
Another thing is the old site. That is what is near our house. It was restored by the forces of the yard, painted, washed, but it did not make it safer.
Take for example a slide. She is without safety sides, the iron in some places is rotten and clings to the baby. Wound can be done without straining.
Now the ladder. They are gigantic and uncomfortable. What it is necessary to have a swing to climb the first step.
And rocking swing. They found us true new, but iron. They fight on the ground, the children fall out, and now they have abandoned it altogether and don't roll. In vain spent money and useless piece of iron.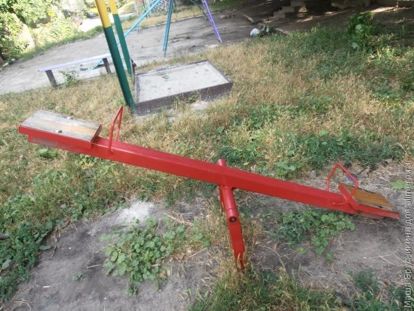 And recently installed a metal tennis table right in the middle of the site. Already half a yard of children go with a plaster on the forehead.
Some safety rules
Having observed, I want to draw the following conclusions:
1. Walk with children, if possible, on new sites. Still, their safety is higher.
2. Swing, rocking and other moving rides must have protective sides or rubber protection.
3. Go around the swing with sharp corners.
4. Keep track of the quality of sandboxes. They should not be a public toilet for yard dogs and cats.
5. And most importantly. Do not leave your children unattended.
Let the walk be a pleasant pastime for you, and not a trip to the emergency room.
Do you pay attention to where your children play?