The first time we faced a serious problem when our son was only 2 months old. Just yesterday, a healthy and cheerful baby began to behave restlessly, sleep poorly, and be capricious. It all matched: the vaccine suddenly postponed according to the calendar, and the first trip to the grandmother where there were many people at once. For 3 days we went from a cold to pneumonia.
Of course, I, like an inexperienced young mother, made many mistakes. First, in no case should you go somewhere with the child for three days after vaccination. The immunity of the child is reduced at this moment, as it fights with the vaccine introduced into the body.
And if in this period are added such factors as abrupt climate change, communication with people who may be carriers of viruses, even without noticing it, then with a probability of 90% the child will become ill. What actually happened to my son.
How it all began
It started off as a common cold. It seems to be sneezing and sneezing, you never know, dressed warmly and calmed down, then sleepless nights began, as children under one year old can breathe only with their nose, my child could not eat properly, because of this he was nervous and even more wept. I did not realize the seriousness, just washed his nose 3 times a day, and before going to bed at night.
The next day, the baby began to cough. Speaking in a simple and understandable language, the virus dropped below, began to irritate the throat – the cough was dry. The mother-in-law, focusing on her experience in caring for children, began to do some home procedures, smeared the baby's chest with honey, badger fat, put chopped onions next to the bed.
It seems to be taken to the treatment, but the child was getting worse, the cough has already become wet and suffocating. He spent the whole next night in my arms, from 4 to 5 in the morning he coughed constantly. I decided to call the doctor the next morning. The doctor, after listening to his son, with big eyes said that with such a cough that was at night, it is necessary to urgently go to the hospital, and they will only receive us in an infectious disease.
Hospital treatment
By the time the doctor arrived, the child already had wheezing. He was lethargic and moody. At the hospital, we were immediately identified in the intensive care unit, where constant care and monitoring were provided to the patients, the catheter was immediately placed in the subclavian area, droppers, compresses, inhalations started …
I wanted to tear my hair out, I considered myself an absolutely useless mother, who already in 2 months got into intensive care with a child! I blamed myself and everyone else: and the nurse, who suddenly reported the vaccine was postponed, and all the relatives who took the baby into her arms. I was very scared.
The first two days he did not eat anything, I was ready to tear my hair out. And the doctors reassured me, saying that during illness, this is a normal condition, and that it receives the necessary nutrients through an IV drip. We were diagnosed with right-sided pneumonia.
A small child who could not breathe normally, wheezed and whistled, coughed up from the mucus that was in the nasopharynx — caused depressing feelings. So I wanted to rewind the time back and just stay at home after that vaccination.
On the third day of our stay in the intensive care unit, there was a peak of our illness. Outside the window the wind howled, foreshadowing the change of weather, the child cried all day. This is not an allegorical expression, it literally was all day, with breaks for a short, completely unhealthy sleep. My baby seemed to ask for help, looking into my eyes.
I kept him in my arms all that day, wiping the tears on my cheeks, and constantly asking the doctors who came to us when it would be better. The head of the department said that toxins began to be released from the disease into the brain, which caused him a headache. I asked to give him a medicine that would relieve this pain.
But, apparently, they were not completely sure and decided not to risk it. During the day, the medical staff stayed at the glass wall of our ward, shaking their heads, seeing that the child was already crying. I just held him in my arms and prayed. It was not a demanding, tearing cry, it was the monotonous, muffled howl of a tiny child who could not even tell or show what exactly hurt him …
By evening, it was decided to give him a sedative so that the child could at least sleep. He was given half the dose, she did not work. Half an hour later, another dose was injected. Nothing changed. Up to 12 at night he was given 5 such injections. At the sixth time already at midnight a nurse came in with the transparent contents of a syringe, to my question what it is, she answered – that this is a drug sleep. He finally fell asleep …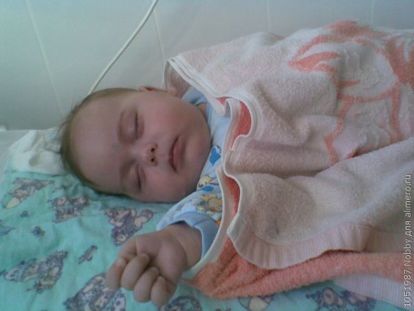 It turns out that the children of our age have fallen asleep from half the dose, and my child was given 5 times a sedative, and it did not affect it. The doctors, apparently not understanding what else was bothering the child, decided to dig his ears, also no changes. Then, we decided to put a vapor pipe. My boy lay all naked and helpless in a crooked pose, crying hysterically.
Enema was performed, the nurses left the ward, I pulled diapers out from under it and went to throw them away when I returned – my child was asleep. He slept 4 hours. I watched him sleep and could not move away from him, for the first time in these days I ate normally, not taking my eyes off him, and thanked God that at last the child began to recover.
In young children under one year the disease develops very quickly. To prevent this from happening, I began to do this next time at the first sign of a cold. First, put candles Viferon for 5 days – this is an antiviral drug that supports immunity. Secondly, we bought a nebulizer, and let the child breathe nat. solution.
The technology is as follows: first, I dropped drops like Aquamaris or Aqualor, then pulled out snot using an Otrivin-baby aspirator, then dug in the vasoconstrictor, then we did inhalation. If the child had a cough, inhalations were made from saline and expectorant in a ratio of 1 to 1. Thus, we cure a cold in 3-5 days.
It is important not to bathe when you cough, because when the moisture cough only increases, the mucus in the bronchi swells and increases, and does not allow to breathe.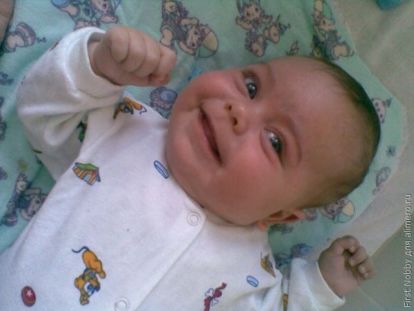 I wish all moms that their babies never get sick