Baby stroller – this is one of the most expensive first acquisitions for the baby. In addition, it is the main vehicle of the child in the first 1-2 of his life. That is why I approached this issue very responsibly and even before the appearance of my daughter, when I had a lot of time to visit stores.
My husband and I first decided to visit all of the largest bases with wheelchairs and see what the manufacturers offer to newly-made moms today.
The choice, of course, struck us. A lot of colors, models, complete sets – you can choose infinitely long. Of course, some strollers are very expensive, and some are quite affordable. But we decided not to build on the cost of the stroller, but to see that it satisfies us in all the parameters that we have determined for ourselves.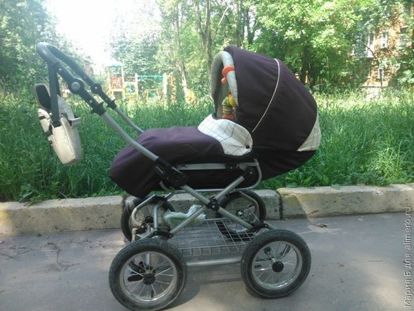 Our wheelchair requirements
I wanted a classic pram that would have both a regular cradle and a walking block. I am very pleased that today there are a lot of such models, and there is where to turn. There are even 3 in 1 strollers where a car seat is also placed on the frame. It is, by the way, also included. But we decided for ourselves that this is too heaped up and we will buy a car seat when the daughter appears.
For me it was very important that the cradle was large and roomy. So it will be enough for a long time, and the daughter will be comfortable and in winter clothes, and with a warm blanket. By the way, I was already completely convinced of the correctness of my decision – we walked in the cradle for almost 11 months, and she was very comfortable in her even when we dressed her in the cold like cabbage.
In relation to the walking block, certain requirements also appeared – it is the simplicity of its shift, the possibility of installation in two directions, the presence of seat belts. But here, I must say, almost all the models corresponded to this.
I also paid great attention to the fact that the stroller had a smooth ride, swayed easily without any effort and squeaks. Here we tried a lot of options, and I must say that not every wheelchair suited us according to these characteristics. But we found our perfect option.
By the way, the wheels are still very important – they should be big and wide to make it easier to ride on our Russian snow – I was again convinced of our first snowfall in the correctness of this.
The weight of the stroller was very important to me. I am at home alone in the afternoon, pulling off both the baby and the stroller on myself. Therefore, we chose a rather lightweight version so as not to overstrain the very first walk. Of course, classic strollers are fairly monolithic, and here we were able to find a suitable option for ourselves – as they say, those who are looking for will always find. The weight of 20 kilograms suited me perfectly.
Well, as a lover of all sorts of things, I really wanted the stroller to have a handbag for walking, a mesh for food, pockets for small things. We also paid attention to the color of the stroller – whatever you say, but there are colors for both girls and boys. We took a universal color – burgundy. You never know what!
It was precisely by these criteria that we found a carriage for ourselves, which completely satisfies us to this day. My daughter is already a little over a year old, and we have already moved to the walking block. She always falls asleep on walks, which means that she is comfortable. And I proudly walk with our first vehicle all day long.
And how did you choose your first stroller?