For almost a month our son has a new fixed idea: I will not wash. It's just impossible to bathe the baby normally: it only allows you to wash your hands and everything below the belt. The rest is strictly forbidden, and I don't know how to finally buy out this tomboy.
Do not want to wash my hair
The main reason for not bathing is unwillingness to wash your hair. The son always disliked this process, although the headwash should not deliver any particular problems to the modern child.
Gone are the times when children washed their heads with soap or regular shampoo, which began to pinch their eyes as soon as they got there.
Today, in the arsenal of any parent bubbles with no-tears means. And the biggest trouble that can happen to a child is a few streams of water will leak over his face. Although we honestly tried to wash off the foam from the head of the son so that everything flows down the back of the head.
Be that as it may, starting with the whims, the child fell into hysterics about washing his head. I will say right away that he did not get burned with water, did not choke, and we did not have any other emergency during headwashing.
I tried to do this as rarely as possible, but, you know, in order not to breed insects, at least once every 2-3 weeks you have to carry out the execution, because no persuasion helps at all. Gradually, we have reached the point that now it is strictly forbidden to touch the head to parents.
We have tried a lot, but, unfortunately, there is no positive result. In order to explain to the son why they wash their heads and that it is not scary, we read him Mayakovsky, washed his hair with him, bought shampoo with a duckling together with him, sniffed how pleasantly he smells.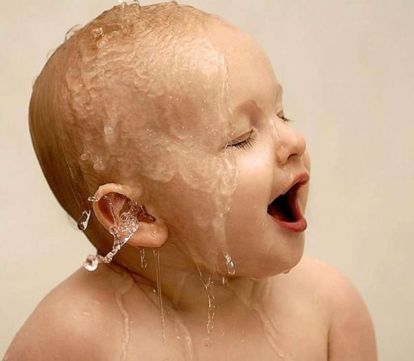 We tried to water his little head with a very thin stream of water and not water at all, but wash the foam with our hands. In general, nothing helped, I had to wash his hair under crying.
And she doesn't want to swim either
Since the baby has long found the relationship between bathing and washing his head, he now refuses to swim. He gives himself to be washed only in a t-shirt or sweater – to be sure that no one is soaping him.
Again, I repeat that I am against forcible washing and in general any such actions, so I don't want to just grab my son and shower him, despite his cries.
Now everything is even worse: if the child is reminded about bathing, he immediately begins to howl, his head does not walk and does not wash. To just drag the boy to wash under the arms, many methods have been tried.
We put fragrant foam into the bath, dumped a bunch of toys into the water, and even lured us with a huge toy fuel tanker into which to pour water. The boy does not wash.
In general, the situation is heating up: it is necessary to wash, but I do not want to force it. Dear mothers, have you ever coped with a similar problem and how?