Very often during their attempts to get to know the world, kids encroach on the fact that we, the parents, sometimes seem to be unlawful or unnecessary. And we think so only because this unnecessary is connected with some inconveniences for us personally.
Meanwhile, the interest of the child and his need for something are dictated by certain stages of his personal development. Adults, however, should not hinder attempts to master something and get to know something, but on the contrary – create the necessary conditions for the development of certain skills and abilities of their miracle, worrying only about its safety and finding maximum benefit in everything.
Big interests of the little man
So, each mother can remember the irrepressible desire of her child to conquer all the stairs and steps that are in sight. Sometimes it seems to us that the baby is already tired, we are trying to distract him, and he persistently and with great pleasure rises higher and higher! The task of the mother is to cheerfully count each overcome step, drawing the child's attention to the above figures.
My eldest daughter also had a period when she was madly attracted to water – she was interested in Dasha in any container and in different situations, and the goal was the same – to gurgle in her hands, to amaze and slap.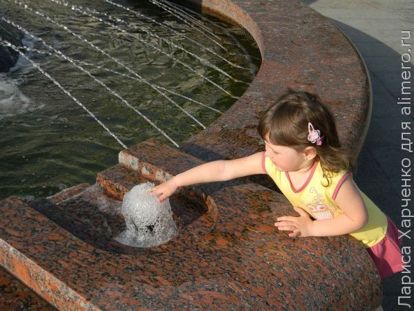 I considered it unwise to prevent this and provided her with such an opportunity at home – in the washstand or bathroom, in the yard of my grandmother – in a bucket or basin. At the same time, we were engaged in a useful business – we caught them from one tank and put them in another, for example, rubber ducks that were swimming there peacefully, or tennis balls. And even more interesting to perform this task with a small shumovochki! And you also need to remember to count them. Delight weight!
Do not forget about security.
The main thing – never leave the baby alone. Having played enough and fully satisfying his next need, the kid will definitely begin to comprehend something new, so necessary for him! And who, like parents, should understand and help him!