When my baby was very small, it was impossible to surprise or frighten her. She rejoiced at every sound and meeting with any person. But over time, the daughter began to react differently to the environment. She had already begun to distinguish her from someone else, some toys began to frighten her, and she sharply reacted to some sounds. Sometimes she just got scared and cried for a long time.
Of course, the fright of a child can be different and entail rather serious emotional consequences. But I want to share how we protect ourselves from domestic fright, as well as how quickly we calm our daughter if something suddenly scares her.
Today we are very afraid of harsh sounds, for example, when suddenly in silence a telephone, an intercom or a doorbell rings. A particularly strong reaction from the daughter during sleep – she immediately wakes up and begins to cry from such a surprise. Therefore, at home, my mobile phone always stands on silent mode. And when we go to bed with her, I turn off absolutely everything that could scare the child.
We are also very afraid of the sounds of a hair dryer or a blender. Therefore, when I need to dry my head very quickly, I send my daughter and dad or grandmother to another room, and I lock myself in the bathroom so as not to frighten the child. And when preparing my daughter puree, I lock myself in the kitchen, and I turn on some kind of cartoon so that she does not react to the unpleasant sound.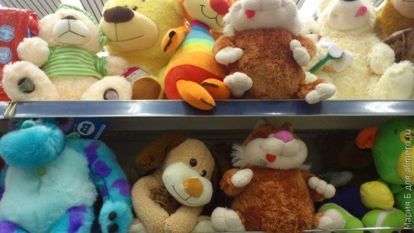 All the toys, especially the talking ones, started scaring us a little too. But to them, I slowly teach my daughter. We study a toy together with it, turn on the sound, stroke, consider. For several days the toy after such dating procedures ceases to scare us.
But here, for example, we categorically did not like the talking cheburashka — tears came to my eyes, and after a while we began to cry. We had to part with the Cheburashka, and she was in a box for unnecessary things.
Probably, like many, our neighbors like to constantly engage in repair and something to drill. This is especially true in the morning at the weekend. The daughter of this nasty sound is also afraid. If we are awakened by this drilling, then we just hide under a blanket with her, and I start to tell something. And if the drill caught us in the afternoon – you we turn on the music and dance. So, the negative reaction is fading away.
Sometimes we are frightened by new people who come to our house. Of course, they want to cuddle my baby, and she rushes into tears. Therefore, for a more relaxed acquaintance, I keep my daughter in my arms, and we slowly get used to the stranger. Twenty minutes later she can react to him calmly enough.
On the street, in order not to be frightened by the harsh sounds of passing motorcyclists, we go to places far from the road and enjoy the singing of birds.
How do we cope with the fear response
Of course, everything in life is impossible to foresee. And sometimes something can scare us enough. My daughter immediately starts crying. The most important thing is to show calm. My one of the most effective ways is to switch attention to something. I quickly tell her in an interested tone — oh, look ka, and show something to her. While this method almost always works. My daughter stops crying excitedly, and looks interested, what can I show her.
Once, when we were exactly one year old, we had quite a strong fright – on the new gift bike, the visor was sharply and with a roar. My daughter at that time was sitting on it. She was very scared and cried a lot. Nothing helped — not a distraction, not a wiggle, not even my mother's favorite mobile phone.
The only thing that saved us was when I guessed to attach it to my chest. Fortunately, we were still breastfed. Now we are also saved by a simple bottle of water, as well as a blow on the face.
To my joy, we are frightened not often, and we quickly deal with the reaction. Mommies, what are your kids afraid of and how do you soothe them?