What could be sadder than a child's illness? Is it only that he is forced to lie in the hospital. …
In the summer of last year, my good friend's daughter was hospitalized, she had jaundice. Her mother went there with her. The girl was very afraid. Every day, droppers and other unpleasant procedures.
Not surprisingly, the baby, who at the time was only 3 years old, began to be afraid of doctors who did not lisp with her, and they were not entirely polite with her mother. In order not to injure the psyche of the child, the first thing was to calm down herself, and then reassure Anya.
Calm, only calm

She explained to her daughter that all these procedures are necessary so that she would quickly recover and return to her kindergarten to her friends. It should be noted that the girl is very clever and not smart for years. They had long conversations.
Veronica explained to her daughter how she was ill, she said that no one was to blame for this, it just happens sometimes and everything will be fine very soon (Anya was upset that she had to go to the hospital and even with her mother so many things, she considered herself guilty of what had happened).
She also told her about people in white coats who are here to heal and help people. They do not need to be afraid, but rather listen to the advice and follow all the recommendations.
After a couple of days, the little girl, without hysterics, substituted a thin handle so that the nurse could put on a drip for her, she patiently lay and waited while her mother distracted her with the fairy tale about Chipolino.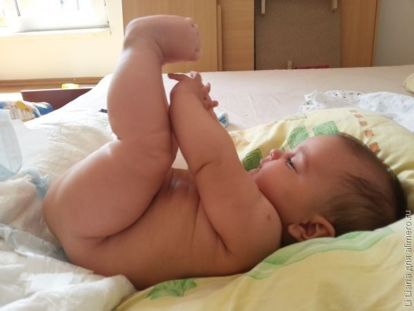 It is very important to talk with the child, to explain what is happening. The most important thing is not to bully, because he is so afraid. Mom's confidence and calmness, as well as her love and care, will help her to overcome her fears of injections, doctors and the hospital as a whole.
My baby in the hospital
When one has to go to the hospital with an infant who finds it difficult to explain what is happening, his mother begins to panic. So it began with me when my son had a temperature of almost 40, an ambulance arrived, and the doctor said that it was time for us to get together as we were going to the hospital.
Arriving there, we were settled in the ward, we were alone there. We were waiting for a room with a cot and a flimsy baby cot, which we did not use because the son was sleeping with me. In general, it became at once sad, some people constantly went back and forth, from the chamber opposite the crying of the child constantly came.
The decor is not the best. The child was nervous, and I, too. In general, after a day, when the temperature is finally, I slept, I persuaded the head doctor to let us go home. The adage that houses and walls are being treated really works.
Immediately upon arriving home, being in his usual atmosphere, peace and tranquility, my son went on the mend.