When my girl was born, there was practically no milk (or more precisely, colostrum). My neighbor in the ward all the time fed her baby, but I squeezed only miserable drops. My girl did not want to take the breast, so she had to feed her with a syringe.
On the first day of our stay in the hospital, Eline was given glucose from a syringe. She was not given any more glucose, motivated by the fact that if they feed the baby, then she will not take the breast at all.
For the first 2 days I was constantly pumping milk. For an hour it turned out about 5 vat syringe. The weight of my girl dropped from 3434 to 3080. A neonatologist threatened to leave us in the hospital until we began to gain precious grams. She said – do not take the breast, feed from a syringe.
I tried my best, decanting-feeding. My baby also tried very hard and swallowed the fruits of mommy works. Fortunately, over the next day we added 60 grams. Not much, of course, but at least there is a positive trend. And we were discharged on time.
After 3 days, on Friday, March 29, we arrived home. Elinochka's chest was still reluctant. Milk has become much more, I constantly pumped it. I tried to feed my daughter from a bottle of expressed milk. And she began to suck her. We immediately refused a syringe for this.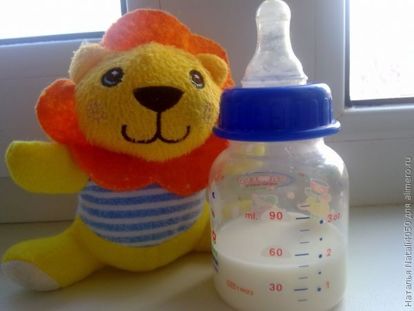 The first night my daughter ate and slept calmly. I was glad that I had found a way out, but still did not lose hope that Elechka would eventually start to suckle. Of course, there was a risk that having tried the bottle, she would not want to work and extract milk from the breast.
Unfortunately, my milk appeared only in the right breast. And even despite my constant attempts to develop the left, it did not lead to a positive result. But I was glad and this. By the way, my mom had no milk at all and I grew up on Semilak.
Every day I tried to put the baby to the chest. She took and gradually began to suck. So, we gradually reduced bottle feeding, and after a few days we completely refused it.
Since that time, the daughter can hang on the chest for half an hour, sometimes more. And this was our first small victory!
Now we are 7.5 months. The bottle and pacifier have not been recognized. We eat from a spoon, we drink from a drinking pot.
Girls, and anyone else was in this situation? How was breastfeeding adjusted?